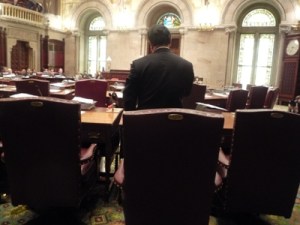 ALBANY—Once again Republicans and State Senator Pedro Espada Jr. entered the chamber, were unable to reach a quorum of 32 and attacked Democrats for failing to show up for work.
While they stressed negotiation toward some resolution of a power-sharing agreement were ongoing, they did not seem close to a resolution of the leadership crisis that has hobbled the chamber. Speaking to reporters on the floor, Espada said he met Monday morning over breakfast with the Republican leader, Dean Skelos, and top Democrats John Sampson and Malcolm Smith. Democrats expressed willingness to see Espada occupy the chamber's presidency in some sort of rotating power-sharing. Espada rejected the idea.
"No one would consider having musical chairs in a Fortune 500 company, have a different CEO everyday. It's a ridiculous situation," he said. "But I am happy that my colleague Jeff Klein is starting to think about an Espada president pro tem, even for a day. It shows progress."
Espada confirmed that there had been overtures made to him by Senator Hiram Monserrate, but that "those overtures didn't last very long. At every opportunity, I tell them it's not the way I do business."
He added: "I will not leave my partners in the coalition government that brought us to a successful June 8. I am not leaving my partners that brought me to June 8."
After the morning meeting, both sides asked David Paterson to postpone the special session he has called for tomorrow.
"I told them no," Paterson said at a press conference where he took no questions. "The people's business has been delayed long enough. We have to get back to completing this session's agenda, and it is important for us to continue and finish that job."
He said that after critical time-sensitive issues, "we'll be moving on to issues regarding reform, fiscal discipline and also civil rights."
"Interesting ideas or controversial pieces of legislation have always come to Albany to die," Paterson said. "We are changing the culture here. We are going to give a hearing to those things which the people want the Legislature to give a hearing on."
But it might not matter. Skelos said another of the daily "sessions" would be held at 2 p.m. tomorrow. Paterson's special session is scheduled to start at 3.
The Republican thinking here seems to be to have squatters' rights in the chamber, and let the Democrats come to them. They pooh-poohed the idea of Jonathan Lippman, the chief judge of the Court of Appeals, serving as a presiding officer, as Paterson proposed.
"My suggestion was if I could preside over the Court of Appeals for a day, it would give me the opportunity to reverse some of my brother's decisions who is on the appellate division in the second department, and when I mentioned that to him, he said none of them would be reversed because they are well thought out and legally sound," Skelos said. "It's separation of powers. You're going to have the chief judge of the Court of Appeals preside when he could be hearing appeals of legislation that we've passed? It makes no sense."