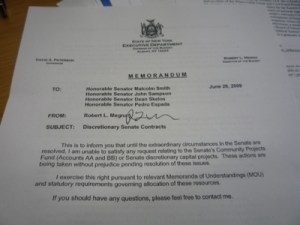 ALBANY—David Paterson said he is calling an extraordinary session on both days this weekend, and, in what is becoming a daily event, held a raging press conference in the Red Room where he said he has issued a memo to halt the payment of member items from the still-hobbled State Senate and that he will seek a court order compelling senators to come into the chamber together.
Noting that neither bi-furcated session of recent days has had a quorum of 32 members (no quorum was called), Paterson today said that "technically" the Senate has not been in session.
He also poured water on the progress of negotiations in the chamber.
"Don't be fooled; they're only talking because I keep calling special sessions," Paterson said. "Now they're telling you that they're meeting, that they're very close to an agreement. No, they're very close to the weekend. They have put the weekend above the interests of New Yorkers, many of which run out July 1."
Peter Kauffmann, Paterson's spokesman, confirmed the governor still plans to march in the Gay Pride Parade on Sunday. Another extraordinary session will be called for 6 p.m. that day.
Paterson provided a memo issued by his budget director to "Honorable Senator[s]" Malcolm Smith, Dean Skelos, John Sampson and Pedro Espada that said "until the extraordinary circumstances in the Senate are resolved, I am unable to satisfy any request relating to the Senate's Community Projects Fund."
Lawmakers appropriated $85 million to this fund as part of the 2009 budget. A resolution detailing how it would be spent this year was scheduled to be taken up June 8, but never passed given other events of the day. (According to Senate Democrats, this caused Espada's defection.)
It was pointed out to Paterson that no member items for this year were authorized, and he said "now they won't be." He seems to be targeting items passed in prior years but not paid.
"Any point in the process where we can stop it, we will," Paterson said. "These senators want to continue to spend taxpayer money on their pet programs when the people of the state are about to pay taxes to their inaction."