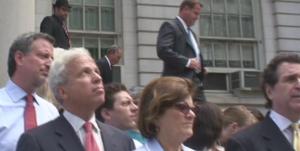 Betsy Gotbaum and the candidates running to replace her were joined outside City Hall this morning by four good-government groups to protest the 40 percent cut that's slated to hit the public advocate's office next year.
Joining the protest were representatives from Common Cause, NYPIRG, Women's City Club of New York City, and Citizens Union, who all criticized the cuts.
"An extreme cut like this is not just politics as usual," said Susan Lerner of Common Cause. "It is of a piece with the more extreme antics going on in Albany that show a disquieting lack of respect for our institutions of self-government."
DeNora Getachew, CU's director of public policy and legislative counsel, said the cut "is inexcusable and inexplicable."
Gotbaum also unveiled a chart that showed the percentage of cuts to her office compared to the cutbacks affecting other elected officials, which she says bolsters her claim that the cut is "political payback" for her opposition to term limits.
When asked why the comptroller's office was not cut by a similar proportion after its occupant also opposed the term-limits extension, Gotbaum said it may be because that office has certain constitutionally mandated functions, unlike hers, and is therefore better protected.
Candidate Mark Green said, "Right now, to resolve the impass in Albany is hard because you have two equally, numerically strong, vying factions. Here, the resolution is entirely in Mayor Bloomberg's hands."
Green suggested Bloomberg simply restore the cuts from his discretionary funds. If not, Green also suggested the Council's speaker scale back next year's member items by 2 percent, and use that money to fund the public advocate's office.
"Why the mayor and the speaker have done this I think has an obvious answer. Don't make me say it," said Green. He went on to say that the mayor is trying to eradicate the office by cutting off its funding, since the mayor already pledged to not get rid of it through a referendum.
Other candidates there were Councilmen Bill de Blasio and Eric Gioia, attorney Norman Siegel, and Alex Zablocki, a Republican.
As the event went on, Bloomberg exited City Hall, walked down past the protest, and got into an SUV, which took him to an event in Brooklyn.