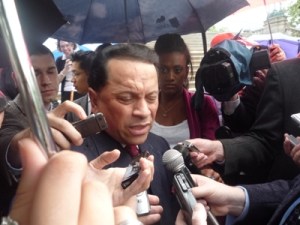 ALBANY—What now for State Senator Pedro Espada Jr.?
He defected from the Democratic conference in the State Senate, a coup that touched off a leadership struggle that has hobbled the chamber for over a week. After his fellow defector Hiram Monserrate returned to the Democratic fold this morning, Espada Jr. is now something of a one-man island of state government, with a claim to a hefty title: Senate president pro tempore.
"That will not be a deadlock. That will be us doing our job," Espada Jr. said on the Capitol steps, where dozens of demonstrators chanting his name put on a show in a gray drizzle. "There is a bipartisan agreement—it was reached last Monday. Any aggrieved party can go to court."
He added: "As Governor Paterson said, I don't think we're in the business of choosing leaders every week up here, or as the wind blows. A vote was taken. If you want to undo that vote, you have to show up with 32."
Democrats earlier today said they will work to form some sort of power-sharing agreement. Republicans haven't gotten back to me with their position on that.
I asked new Democratic leader John Sampson what role Espada Jr., who is under investigation by the Bronx district attorney and Attorney General Andrew Cuomo and owes several thousand dollars in fines for ignoring state election laws, would play in a bipartisan governing arrangement.
"I've been elected to deal with the administration, to deal with these legislative issues," Sampson said during a small gathering with reporters, flanked by Monserrate and State Senator Jeff Klein. "I reached out to Senator Skelos. We sent a letter to him also" to "start discussing the ways in which we can govern jointly."
Unprompted, Monserrate jumped in.
 "I think Senator Espada is tremendously important to whatever resolution ultimately occurs. Pedro Espada is my friend," he said."
"He's a colleague," Sampson said.
"He's a colleague, he's a member of the Senate, and his vote is critically important to find a resolution to that. And he will be at the table in those discussions, as all the senators will be," Monserrate said.
However, Monserrate said he would have to "reconsider" whether he would vote again to make Espada Jr. president pro tempore.
Republicans said they will meet with Democrats, but are standing by the results of last week's vote. The pro-Pedro-protesters went into the Capitol after their rally outside, and began shouting at protesters from Citizen Action, who were shouting their familiar refrain, "the Senate is not for sale."
By 3:30 p.m., sergeants at arms had locked down the chamber's lobby, and about 30 Republicans plus Espada Jr. walked in to have a session.
On the floor, I asked Skelos if he would continue to support Espada Jr. as president pro tempore.
"Pedro Espada has my vote and will have my vote if this has to happen again, but we don't believe that that's necessary because we took legal action, 32-30, last Monday," Skelos said.
Klein, talking to reporters, said the parties would sit down at 4:30 p.m.; I had heard reports that David Paterson would attend the talks as a broker, but his spokesman said that was not the case.
Skelos said only that he would discuss the legislative agenda at that meeting.