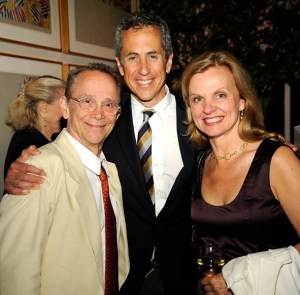 "You stopped me right before I could walk in and get too liquored up!" prolific restaurateur Danny Meyer told the Daily Transom as he arrived at the Central Park Conservancy's "Taste of Summer" benefit on Wednesday night, June 3.
An estimated crowd of about 1,000 had turned out to the Central Park Naumberg Bandshell–not only for the open bar–but also to sample fare from some 40 top-notch New York restaurants. (A guest at the end of the night walked out holding onto her stomach and said, "I'm not pregnant, I promise! I'm just full!")
Mr. Meyer hosted a special VIP cafe exclusively for guests who rented a table for the night, featuring tastings from across his Union Square Hospitality Group's repertoire, including the perenially popular Gramercy Tavern and Union Square Cafe.
Though not a fan of the term "empire," Mr. Meyer only continues to expand his culinary footprint. In addition to rolling out new concessions at Citi Field in Willet's Point, he is also opening a new catering operation in Central Park called Public Fare, which he said "hopefully, will not only make it more fun to go see 'Shakespeare in the Park' but will also be open during non-theater nights, too."
He further plans to open a fancy new restaurant at Ian Schrager's posh Gramercy Park Hotel in the fall.
"This is a recession baby, this restaurant," Mr. Meyer told the Daily Transom. "The only recession baby I've ever had was Blue Smoke, which was born just a couple months after 9/11. And I think it's fair to say, I want to create a restaurant–presuming that these times are going to go on for a number of years, even though we'd all like it to be over–but I'd rather make that presumption and have the kind of restaurant that somebody would wanna go to even with that, and then that means you wouldn't want to go there just because you had a few more dollars to spend."
Mr. Meyer said he hasn't yet decided on a name for the new eatery. (How bout just calling it Recession Baby?) "But we have a chef which we just announced today! Nick Anderer," he noted.
"He's not only an amazing chef; he's an incredible guy, too," Mr. Meyer said. "We haven't opened a fine dining restaurant since The Modern opened 5 years ago. Which is fine, it's not like I have to do something every year. But you end up getting a back log of talent, whether at Gramery Tavern or Eleven Madison Park, or Tabla, or Union Square Café, or The Modern, who say 'What about me? I want to grow.' So, we're pretty much committed to doing everything we can to promote our own talent."
Mr. Meyer described the Gramercy Park deal as a lot more manageable than the lucrative city contract to operate Tavern on the Green, for which Union Square Hospitality ultimately declined to submit a bid. "I think we really wanted to do something that we could manage," Mr. Meyer said. "Life always presents you situations where your heart says 'yes' and your mind says 'no,' and I think Tavern on the Green was one of those. It would have been a lot of fun but it would have been a tough business to operate. We've got enough."