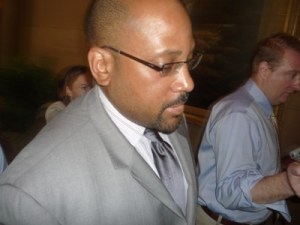 ALBANY—Democratic Senate Leader John Sampson has a new suggestion for resolving the leadership battle in his chamber: just go home.
"I would like to give it one last attempt to negotiate a possible bi-partisan governance to get the work of the people done," Sampson said to Fred Dicker on WGDJ Talk 1300. "But I don't want to waste any more time. I don't want to waste their time, I don't want to waste my time, I don't want to waste the people of the State of New York's, and I don't want to continuously increase this bill and their payment. We don't need to get paid, suspend the per diems, until we're ready to go back to work. No more shows, no more theatrics, let's do the work of the people."
This would leave undone several routine measures like extending county sales taxes and bonding authority, as well as a reauthorization of New York City's school governance legislation and an increase in New York City's sales tax. David Paterson has called on legislators to conduct a "stipulated" session where they act on these needed measures.
Walking away from the interview, Sampson was asked whether he would direct Angelo Aponte, the Democrat-supported secretary of the Senate who controls the chamber's administrative staff, to withhold paychecks.
"It's under discussion," he said.