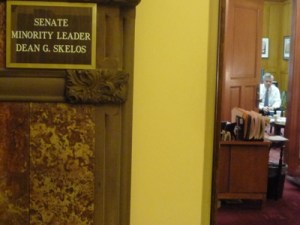 ALBANY—Most of the 62 state senators fighting over their chamber's leadership showed up for an extraordinary session this afternoon—as did the nine people whose nominations were the ostensible purpose of the session—but once again, a bi-partisan gaveling in and out lasted just over five minutes.
Morgan Hook, a spokesman for David Paterson, said the nominees "are required to be present if there's a chance they can be confirmed." During the split "sessions," which mirrored a form that Paterson believes is invalid and is addressing with legal action, representatives of each side apologized to the gathered nominees.
All 30 Republicans and Senator Pedro Espada attended one session, while 24 Democrats attended the other. Senators Malcolm Smith and Suzi Oppenheimer checked in, but were not in the chamber. The absent senators—who have until 5 p.m. to physically check in—are Toby Ann Stavisky, Kevin Parker, Ruth Hassell-Thompson, Carl Kruger and Eric Schneiderman.
Negotiations toward an operating agreement, all sides insist, are ongoing. Espada claimed he met this morning at a diner with five Democratic members, but declined to say who they are. I couldn't independently confirm that.
"The positive things, I think is that both sides are meeting. Talking is always good, but so far there hasn't been anything that has been agreed upon," Senator Jeff Klein, a Bronx Democrat, said.
A special session is scheduled for 6 p.m. Sunday.