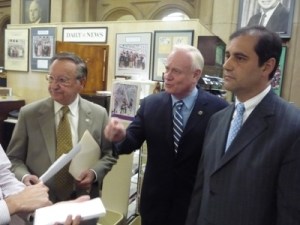 ALBANY—Democrats in the State Senate say they're walking away from legislation extending Michael Bloomberg's control of the New York City school system.
"We said we are dealing with non-controversial bills," said Senator John Sampson, a Democratic leader and an opponent of mayoral control. "In our conference, mayoral control is a controversial issue and we would like some input."
Sampson has expressed dissatisfaction with legislation that passed the Assembly, which would have extended mayoral control with some modifications, and offered his own bill, which would provide fixed terms for members of the panel for educational policy.
Sampson appeared with most of the other Democratic senators for a press conference where they declared the end of negotiations to resolve a power struggle in the chamber. They put forward an agreement that would rotate the presiding officer in the chamber, and a list of bills that they consider non-controversial. They include sales tax extenders and the extension of the Power for Jobs program. Mayoral school control legislation is not on the list.
Republicans wasted no time blasting the Democrats' position.
"It makes absolutely no sense. It's obstructing, it's irresponsible," Senator Frank Padavan, a Queens Republican who is the sponsor of the bill, said.
"Maybe he's using these 1.1 million kids as a pawn in his grab for power," Senator Andrew Lanza, a Staten Island Republican, said of Sampson.
UPDATE: Michael Bloomberg's spokesman put out a statement saying both mayoral school control and authorization to raise the city's sales tax "deserve to be brought to the floor for a vote."
Later, Austin Shafran said the sales tax measure was one of the Democrats' priorities.
Smith, when pressed by reporters at a later news conference, said that the active list is not "finalized."