"There was change needed in [the] New York State Senate. It's indisputable that an issue like vacany decontrol, that protects millions and millions of tenants in the City of New York, had not come up for a vote yet." —Hiram Monserrate
"[Jesus] began to overturn a few tables along the way and the man who was known as a man of peace, and the man who was known as the savior of Christianity, he also understood that at that time and place, a few tables had to get overturned to get the people's business done right." —Hiram Monserrate
"Always remember that when Jesus turned over the table, he knew he could be crucified, but he knew he could get back up. Always make sure you got the resurrection guaranteed before you start getting crucified." —Al Sharpton
"There are not many media outlets that want to see blacks and Hispanics united. Lets just talk about it. They don't want to see us united." —Malcolm Smith
"This is our State Senate. We own the State Senate. We control the State Senate, and we are not giving it back. Plain and simple." —Malcolm Smith
"This is just about the Republicans so they can stay in existence because they know they are ready for their demise. And that's what it's all about." —John Sampson
"We're here today to solve a very, very important problem: How do Democrats take their rightful place as the majority in the State Senate?" —Jeff Klein
"When you decided you wanted the Senate to be in Democratic control, a billionaire got together with other millionaires and circumvented your vote." —Eric Adams
"Listen, Republicans, you have tried to kill us, and we took it with pride. It's our time, and we are not going to let you take it back. We'll take you out first." —New York NAACP president Hazel Dukes
"I have a message for the Senate Republicans. You cannot hide behind a legal fiction and avoid a political reality." —RWDSU president Stuart Appelbaum
"We won that election and we are keeping the power." —Tom Duane
"There are two kinds of people out there: the people we represent, and the people who are out to get the people we represent." —Eric Schneiderman
"I find it fascinating that over the last week, everyone is rushing to admit that they handled the coup. They're admitting in the newspapers that, apparently, they broke the law, buying votes of legislators, which, by the way, is illegal." —Liz Krueger
"You know I'm not scared of a fight." —Kevin Parker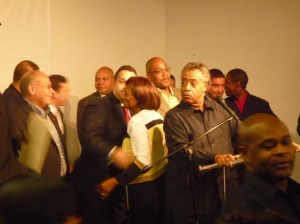 Al Sharpton hosted a meeting of some Democratic State Senators on June 20 in Harlem.
Sharpton implored them to find a solution to the power struggle in their chamber, and said, "Who cares who's the captain of the Titanic? The issue is to make the ship float."
The Democratic Senators care, though.