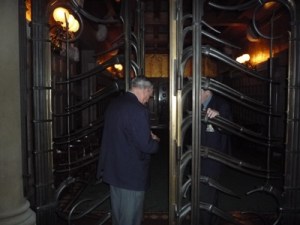 ALBANY—Today's game of chicken in the State Senate leadership battle is over the question of whether session will actually take place indoors.
"I don't know if we have a firm decision on location but session is going to take place," State Senator George Winner, a Republican from Elmira, just said. "We are committed, with our new majority in this coalition government to have session and do the people's business."
Leaders of the new Senate majority–consisting of Republicans plus renegade Democrats Pedro Espada Jr. and Hiram Monserrate–have said that with 32 votes, said they have the power to call the chamber to order and begin acting on bills.
There's even an active list, enumerated below. Winner said there's nothing in statute requiring the session to be conducted in the Senate chamber, and that should the need arise, Republicans will provide staffers.
Meanwhile, the Senate chamber remains firmly locked down. (Republicans claim this violates the state constitution, and Winner called it "illegal.") Sergeant-at-arms William Martin holds the keys, and he remains loyal to Angelo Aponte, the secretary of the senate, who was elected in January to a two-year term by Smith and the Democratic caucus.
Republicans have been blasting Aponte as dictatorial, and called for him to resign. I asked Aponte last night if he had any plans to do so, noting his head was being called for. "It won't be the first time," he replied.
There don't seem to be any plans to unlock the chamber. I asked Winner if he was concerned about the possibility of rain, given the overcast skies.
"Umbrellas are a new invention," he replied.
Rather than let the Republicans and Democrats fight this out, I'm going to defer to the video below, which I think does a good job presenting the pros and cons of being inside and outside. Enjoy.
 SENATE ACTIVE LIST

                         Wednesday, June 10, 2009

          |            |                     |
   Cal    |  Bill No.  |  Sponsor            |  Title
   No.    |            |                     |
 ———+————+———————+—————————————–
   5      |  S405      |  ROBACH             |
          |            |                     |  Requires that notice of foreclosure be
          |            |                     |  served upon all tenants of the
          |            |                     |  building that is being foreclosed
 ———+————+———————+—————————————–
   41     |  S1388     |  FARLEY             |
          |            |                     |  Permits persons 60 years of age to
          |            |                     |  take state university courses for
          |            |                     |  credit without tuition
 ———+————+———————+—————————————–
   46     |  S2208     |  DIAZ               |
          |            |                     |  Establishes a senior housing task
          |            |                     |  force
 ———+————+———————+—————————————–
          |            |                     |
   179    |  S3423A    |  MONTGOMERY         |  Prohibits the online posting of the
          |            |                     |  home address or location of a day care
          |            |                     |  provider's home if such provider has
          |            |                     |  opted out of the online availability
          |            |                     |  of this information
 ———+————+———————+—————————————–
          |            |                     |
   222    |  S451      |  KRUGER             |  Requires approval of the commissioner
          |            |                     |  of agriculture and markets for
          |            |                     |  compromise of a fine or penalty
          |            |                     |  relating to kosher violations
 ———+————+———————+—————————————–
   242    |  S3066     |  OPPENHEIMER        |
          |            |                     |  Extends provisions of law relating to
          |            |                     |  the disposition of sales and
          |            |                     |  compensating use tax revenue in the
          |            |                     |  county of Westchester
 ———+————+———————+—————————————–
   244    |  S3334     |  STEWART-COUSINS    |
          |            |                     |  Extends the expiration of the mortgage
          |            |                     |  recording tax imposed by the city of
          |            |                     |  Yonkers
 ———+————+———————+—————————————–
          |            |                     |
   315    |  S3429     |  MCDONALD           |  Extends the authorization of the
          |            |                     |  county of Rensselaer to impose an
          |            |                     |  additional one percent of sales and
          |            |                     |  compensating use taxes for two years
 ———+————+———————+—————————————–
          |            |                     |
   330    |  S4324     |  FOLEY              |  Requires that local disaster
          |            |                     |  preparedness plans of a county, city,
          |            |                     |  town, or village not conflict with
          |            |                     |  those of others
 ———+————+———————+—————————————–
          |            |                     |
   367    |  S2653B    |  HUNTLEY            |  Relates to construction and financing
          |            |                     |  of facilities by dormitory authority
          |            |                     |  for Alliance of Long Island Agencies,
          |            |                     |  Inc. and InterAgency Council of Mental
          |            |                     |  Retardation & Developmental
          |            |                     |  Disabilities Agencies, Inc.
 ———+————+———————+—————————————–
          |            |                     |
   405    |  S3428     |  LITTLE             |  Extends the expiration of the
          |            |                     |  authority of the county of Franklin to
          |            |                     |  impose an additional 1% sales and
          |            |                     |  compensating use tax
 ———+————+———————+—————————————–
          |            |                     |
   406    |  S3563     |  JOHNSON C          |  Requires the commissioner of general
          |            |                     |  services to maintain an inventory and
          |            |                     |  audit of every state-owned real
          |            |                     |  property or unappropriated state land
          |            |                     |  that has been sold
 ———+————+———————+—————————————–
   408    |  S3800     |  VOLKER             |
          |            |                     |  Extends Livingston county's ability to
          |            |                     |  impose an additional rate of sales and
          |            |                     |  compensating use taxes
 ———+————+———————+—————————————–
   410    |  S4115     |  AUBERTINE          |
          |            |                     |  Extends authorization of the county of
          |            |                     |  Oswego to impose an additional one
          |            |                     |  percent of sales and compensating use
          |            |                     |  taxes until November 30, 2011
 ———+————+———————+—————————————–
          |            |                     |
   413    |  S4579     |  JOHNSON C          |  Relates to temporary transfer retail
          |            |                     |  permits
 ———+————+———————+—————————————–
          |            |                     |
   414    |  S5121     |  VALESKY            |  Extends authorization of the county of
          |            |                     |  Onondaga to impose an additional one
          |            |                     |  percent of sales and compensating use
          |            |                     |  taxes until November 30, 2011
 ———+————+———————+—————————————–
          |            |                     |
   417    |  S3712     |  PARKER             |  Prohibits gas corporations from
          |            |                     |  charging an additional fee for
          |            |                     |  installation of capital improvements
          |            |                     |  and fixures to promote energy
          |            |                     |  efficiency
 ———+————+———————+—————————————–
          |            |                     |
   419    |  S4077     |  SQUADRON           |  Allows social services districts to
          |            |                     |  inform applicants and recipients of
          |            |                     |  public assistance of their option to
          |            |                     |  receive information regarding victims
          |            |                     |  of sexual assault
 ———+————+———————+—————————————–
          |            |                     |
   426    |  S1716     |  STACHOWSKI         |  Authorizes tax increment bonds payable
          |            |                     |  from real property taxes levied by a
          |            |                     |  school district within a blighted
          |            |                     |  project area
 ———+————+———————+—————————————–
          |            |                     |
   434    |  S4247     |  AUBERTINE          |  Relates to the imposition of sales and
          |            |                     |  compensating use taxes in the city of
          |            |                     |  Oswego
 ———+————+———————+—————————————–
          |            |                     |
   436    |  S4829     |  FARLEY             |  Relates to extending the authority for
          |            |                     |  the imposition of sales and
          |            |                     |  compensating use tax in Schenectady
          |            |                     |  county
 ———+————+———————+—————————————–
   437    |  S5526     |  MORAHAN            |
          |            |                     |  Extends the authority of Orange county
          |            |                     |  to impose an additional rate of sales
          |            |                     |  and compensating use taxes
 ———+————+———————+—————————————–
          |            |                     |
   442    |  S5500A    |  VALESKY            |  Extends the provisions of rifle
          |            |                     |  hunting in Madison county
 ———+————+———————+—————————————–
          |            |                     |
   455    |  S4071     |  MONSERRATE         |  Provides for the sanitization of every
          |            |                     |  used mattress or bedding material
          |            |                     |  transported, stored or sold in the
          |            |                     |  state
 ———+————+———————+—————————————–
          |            |                     |
   457    |  S4534     |  SAMPSON            |  Expands the definition of "prevailing
          |            |                     |  party" for purposes of counsel fees
          |            |                     |  and expenses in certain actions
          |            |                     |  against the state
 ———+————+———————+—————————————–
          |            |                     |
   463    |  S4031     |  JOHNSON C          |  Authorizes the county of Nassau to
          |            |                     |  transfer ownership of certain
          |            |                     |  parklands to the town of North
          |            |                     |  Hempstead
 ———+————+———————+—————————————–
          |            |                     |
   467    |  S5534     |  FOLEY              |  Extends the effectiveness of open end
          |            |                     |  loans
 ———+————+———————+—————————————–
   587    |  S1163     |  SEWARD             |
          |            |                     |  Relates to extending authorization for
          |            |                     |  additional sales tax in the county of
          |            |                     |  Greene until 2011
 ———+————+———————+—————————————–
   593    |  S3984     |  WINNER             |
          |            |                     |  Provides that the county of Tompkins
          |            |                     |  may impose an additional sales tax up
          |            |                     |  to one percent until the year 2011
 ———+————+———————+—————————————–
   596    |  S4215     |  NOZZOLIO           |
          |            |                     |  Authorizes Wayne county to impose
          |            |                     |  additional rates of sales and
          |            |                     |  compensating use taxes
 ———+————+———————+—————————————–
   627    |  S5596     |  HUNTLEY            |
          |            |                     |  Relates to the training of boards of
          |            |                     |  directors or trustees of certain
          |            |                     |  voluntary not-for-profit facilities or
          |            |                     |  corporations
 ———+————+———————+—————————————–
   634    |  S1447     |  LAVALLE            |
          |            |                     |  Authorizes the dispensing of a supply
          |            |                     |  of more than 72 hours of therapeutic
          |            |                     |  contact lenses
 ———+————+———————+—————————————–
   642    |  S5393     |  KLEIN              |
          |            |                     |  Establishes a pilot program in
          |            |                     |  Westchester county authorizing the
          |            |                     |  county to sell bonds through
          |            |                     |  electronic securities bidding
          |            |                     |  services; repealer