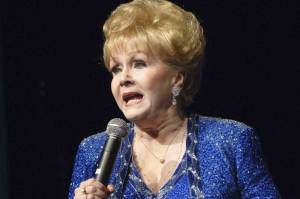 Debbie Reynolds: An Evening of Music and Comedy
Cafe Carlyle
Debbie Reynolds has avoided New York as if it were the swine flu ever since her disastrous 1976 one-woman show at the ugly, antiseptic Minskoff closed four weeks earlier than scheduled. Her shtick was stale; she naïvely used a stage full of mirrors that only emphasized all of the empty seats; she showed film clips from her movies while dumping on them at the same time ("every one of them was a flop" got a nervous laugh, but what did that say for Singin' in the Rain?); and more or less sang "Tammy" prefaced by "29 years in the business and this is my one stinking hit." Nobody sent valentines.
Now she's back, in a different kind of venue, making her cabaret debut at the Carlyle (through June 27). Hip performers learned long ago that if you play an architectural abortion like the Minskoff, you don't use mirrors. No mirrors at the Carlyle, and no talk about how much she's sweating to an audience that can't see the sweat. New Yorkers have seen everyone from Liza and Lena to Chita and Shirley MacLaine all take the town with their hair soaking wet, so who gets excited about a different wig every 10 minutes? Debbie has matured enough to learn that New York City is not the Texas State Fair, but a cabaret stage the size of a 44-cent stamp requires a different approach, and intimacy is still not her middle name. Working without a net or a proscenium to distance her from the audience, she seems awkward and unsure of how to handle them. Now a grandmother drenched head to toe in green sequins except for one gam luxuriously exposed up to the thigh bone, she's a matron with moxie, and when she sails in with one sail flapping, singing "Gee, but It's Good to Be Here," Ethel Merman's rousing number from Happy Hunting, we all agree. But as happy as we are to see one of the few survivors of the golden era of MGM musicals who isn't under glass, the fun wears thin as she wanders back and forth trying to learn how to work the room at our expense and on our time, bumping into the grand piano, trying to get raunchy with the high rollers like Eartha Kitt, and repeating her own self-deprecating jokes about her husbands, her money problems, and her up-and-down career.
"I'm Still Here" seems to be her theme song, in life and onstage, and she tackles it with new lyrics that might not thrill Stephen Sondheim. "I waved at Lana, Ava and June/ Sang Aba Daba Honeymoon/ Got some mileage outta that tune/ And I'm here." Then she attempts Cole Porter's "From This Moment on" because "this is New York and you gotta be sophisticated." But this is not what I would call a sophisticated act. The ponytail from I Love Melvin and the flapper dresses from Singin' in the Rain have gone the way of the MGM waistline the size of a doughnut hole. When you're left sitting there while she leaves the room, replaces her coiffed Champagne wig with a long, black wig, a fake anteater proboscis, and nails long as the talons worn by the Wicked Witch of the West to do a naughty but dead-on impression of Barbra Streisand, you start wondering if this alleged "act" might benefit from some stronger editing. She waxes nostalgic about her Broadway debut in Irene, she does her imitations of Kate Hepburn ("Why are the calla lilies in bloom again? I planted marijuana") and Zsa Zsa ("She's the only Hilton that's always occupied"). None of it is sharp enough or well organized enough by half. She calls herself a vaudevillian, and launches a tribute medley to Judy Garland to prove it. Judy was a neighbor. They used to drink together and compare notes on bad marriages. Too bad Judy isn't around to give her some notes on singing. It's all here—"Get Happy," "Meet Me in St. Louis," "The Boy Next Door," "For Me and My Gal" and an ill-advised "Man That Got Away"—but there's no attempt at interpretation. It's just words, not feelings. Her sense of humor remains undiminished, but pitch problems prevail. You do not go away with any pure sense of who the real Debbie Reynolds is, and she's not about to show you. It's only when she's imitating somebody else that she literally throws herself around the stage like a rag doll. Only then do you get the feeling of what it might be like in her living room after dinner and a few highballs.
But Debbie is Debbie, and with so many greats now deceased, she's pretty much in a class by herself. The act at the Carlyle, accompanied by a trio, is something of a mess, but it's not complicated to describe or analyze. She just gives 'em what they want. If there's anything you don't like, she'll change it. We've grown up watching her morph from bubbly ingénue to tough show-business survivor. She's endured because of her ability to reinvent herself at regular intervals. Now, even with material so old it grows moss, I'd rather watch her fumbling for words and walking into the grand piano than 90 percent of the untalented cabaret newcomers I see today. In the immortal words of Molly Brown, she's not only unsinkable, but "ain't down yet." I always hope that like Avis, she'll try harder. But maybe this is what you get. With six, you get egg roll, and Debbie Reynolds.
rreed@observer.com