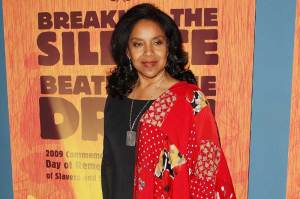 "I was surprised—shocked, even—by the letter to The Times last Sunday that vigorously protested Phylicia Rashad being cast in the leading role of the white matriarch of August: Osage County. "Let's keep white actresses playing white roles and blacks playing black roles," Ronald Fernandez of Pittsburgh concluded sensationally.
His controversial letter raises a number of interesting points (and hackles), and at the risk of offending everyone, I'll tiptoe with Mr. Fernandez into the minefield.
My first thought when I heard about the casting of Phylicia Rashad was that she's surely too beautiful to be playing the screaming, zonked-out old hag of August: Osage County. My second, more cynical thought was that the producers need a star actress to bolster flagging audiences, and that ever since her Clair Huxtable on the The Cosby Show, Ms. Rashad transcends racial barriers, anyway.
I pondered on the offended Mr. Fernandez's central argument: "It doesn't make sense that she would have white siblings and children."
Are plays about what makes sense? Or are they acts of the imagination between the actor and audience in a serious game of pretend?
All actors—black or white, Asian, biracial, bisexual—pretend to be someone else onstage six nights a week, plus matinees. The actor is always … acting. We willingly suspend our disbelief to collude in a grand illusion.
Andre Braugher played the white English hero of Agincourt, King Henry V, at the Public almost a generation ago, and the only concern wasn't Mr. Braugher's blackness but what he would make of the mythic role. (He made a great Henry.)
We've grown accustomed to colorblind casting over the years. Why go back in time now?
After all, it was as far back as 1936 that Orson Welles produced the first all-black Macbeth (famously known as the "Voodoo Macbeth"). And only last week, the Brooklyn Academy of Music brought us a new contemporary Arab version of Shakespeare, Richard III: An Arab Tragedy.
The only question about colorblind casting ought to be, does it work? Is the actor any good? It's been 15 years since Nicholas Hytner—now artistic director of the National Theatre—caused a storm in a teacup in London with his celebrated Carousel, when he cast a black actor to play the adorable white character aptly named Mr. Snow.
In the end, nobody gave a damn—particularly as Clive Rowe made a swell Mr. Snow. Then again, Mr. Hytner's Carousel at Lincoln Center upped the ante with the casting of Shirley Verrett to sing Rodgers and Hammerstein's enduring hymn to hope and survival, "You'll Never Walk Alone," and Audra McDonald—in her breakthrough role—became the first African-American to play Carrie Pepperidge.
If Mr. Fernandez's retrograde "blacks for black roles" were the unwritten rule, there's abundant evidence that theater would be the worse for it. It would be an ungenerous, literal-minded place.
Are there any limits to colorblindness? There have been white Othellos (and thank God I never saw them). On the other hand, Laurence Olivier playing Othello in blackface in 1965 wouldn't be acceptable today. (His eye-rolling performance shouldn't have been acceptable then.)
In his letter protesting against casting Ms. Rashad as a white matriarch, Mr. Fernandez added in fairness, "I would be equally offended if a white actress was cast as Bess in Porgy and Bess, or in any of the black roles in Raisin in the Sun or August Wilson's plays."
But those plays and musicals are rooted in a specific black American identity born in the chains of slavery. In that sense, it would also be folly to cast a white performer to sing Ol' Man River in Showboat. It would be an insult to history.
Here's August Wilson in 1996 on the same topic—in reverse: "To mount an all-black production of Death of a Salesman or any other play conceived for white characters as an investigation of the human condition through the specifics of white culture is to deny us our own humanity, our own history, and the need to make our own investigations from the cultural ground on which we stand."
Wilson and Mr. Fernandez seem to agree in the separatist essentials! But Wilson, the finest dramatic poet of our time, frequently contradicted himself. His apparent separatism was a reaction against prejudice within American theater itself, coupled with his fierce desire to see black identity celebrated (not accommodated). He was dead right about the presumption of staging an all-black Death of a Salesman. But he spoke too soon.
The white director James Bundy has just staged an all-black Death of a Salesman, starring Charles S. Dutton as Willy Loman, at the Yale Repertory Theatre in New Haven (the original home—to add insult to injury—to so many of August Wilson's plays).
As John Lahr pointed out in The New Yorker, the fatal flaw in the production is that the loser-dreamer Willy Loman "is driven crazy by America's obsession with winning" in an age when "this sense of expectation and entitlement was simply not shared by African–Americans in 1949." In James Baldwin's chilling phrase—which was repeated by August Wilson in Joe Turner's Come and Gone—a black American was born into a society in those days, and far beyond, as "a worthless human being."
In the age of President Obama—a theatergoer!—the politics have changed dramatically. But some things—pace Mr. Fernandez' letter to The Times—remain stubbornly the same.
jheilpern@observer.com