State Senators Pedro Espada Jr. and Hiram Monserrate raise their hands to join 30 Republicans, breaking party lines to install new leadership and adopt a new set of rules in the chamber.
Seeing themselves outnumbered, Democrats attempted to adjourn and left the chamber, turning the lights out behind them. The Republicans continued their business.
Billionaire Tom Golisano was watching from the chamber's gallery. He and his top aide, Steve Pigeon, helped woo Monserrate and Espada Jr. across the aisle, and guaranteed to support them in their re-election efforts this fall.
Golisano stood between Espada Jr. and Republican Leader Dean Skelos, who was elected to the post of majority leader, as they announced that they would govern in a Republican-dominated coalition. Espada Jr. said that more Democrats had pledged to join. There has not been any evidence of this so far.
Malcolm Smith held a press conference, flanked by many but not all of his fellow Democrats, to declare the coup illegal.
David Paterson held a press conference to declare he was outraged by the coup, but more or less powerless to stop it.
Editorials decried the new level of dysfunction in Albany. Paul Newell, an activist who mounted a primary challenge against Assembly Speaker Sheldon Silver, declared him "the only sane person in Albany."
As the shock faded, Democrats Tuesday met to talk about their best strategies going forward, including whether Malcolm Smith should remain the conference leader. Here's State Senator Carl Kruger, a Brooklyn Democrat who has been a perpetual needle for Smith, ducking into a closed room with some colleagues.
Appaearing with other Espadas, Espada Jr. promised Wednesday that his coalition was holding strong, and that session would be conducted that afternoon.
Democrats refused to participate, and on their orders, the sergeants at arms controlling the chamber kept its doors locked.
The press gathered outside the doors, waiting for the coalition's entrance. We waited. And waited.
The podium could barely hold the microphones. The scrum was hot and uncomfortable. A cameraman shoved a reporter.
It turned out that Monserrate had caused the delay. He was tilting away from his newfound allies and flirting again with the Democrats. Finally, after meeting with Skelos, he emerged.
Monserrate announced he wanted more time, ostensibly to try and woo more Democrats into the coalition.
A clown, hired by the New York Post, came to the Capiol "to join the circus."
Democrats filed suit against Espada Jr., and sought a restraining order to prevent him from acting as the Senate's temporary president. They traveled to Troy to argue the case before Judge George Ceresia; he declined to sign the order. (Pictured are Andrew Celli and Richard Emery, the Democrats' lawyers and also members of the Commission on Public Integrity.)
As Ceresia was declining to sign the restraining order, Republicans were entering the Senate chamber for a brief session during which they did not act on any bills. Here's State Senator Kemp Hannon, a Long Island Republican, standing on the floor.
The chamber's gates were opened by Espada Jr., who obtained a key.
Protesters organized by Citizen Action flooded the lobby as the Republicans re-entered the chamber, screaming "voters not donors" and "the Senate is not for sale" around State Senator George Winner as he attempted to give a television interview.
On Friday, Democrats returned to court, this time in Albany. They brought nine lawyers, with more standing by.
Judge Thomas McNamara didn't rule on the merits of the case, but said that the senators should work out their political argument outside of court. He said both sides could come back Monday, when he promised he would issue a ruling before the legislative session scheduled for 3 p.m.
Smith met with the other Democrats that afternoon in New York City. When he emerged, he declined to say whether he was still the conference leader. Sources say he was hanging on because of the pending lawsuit, with Brooklyn's John Sampson waiting to replace him.
Azi Paybarah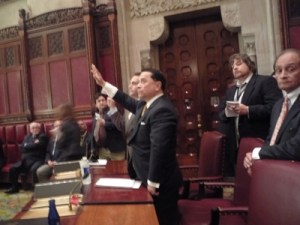 ALBANY–This was supposed to be a quiet week at the Capitol, as positions were scratched out in preparation for the final five-day stretch of session.
But Republicans in the State Senate had other ideas. Starved of the power and perks of majority status since January, when Democrats were finally able to round up the 32 members to support Malcolm Smith as the chamber's majority leader, the Republicans convinced two of their opponents to join them in a coalition government. In a surprise floor action, they adopted new rules and elected Pedro Espada Jr., a Democrat, the chamber's president and Dean Skelos, Republican, as majority leader.
The result, as you can see here, has been chaos.
Angry billionaire paycheck-entrepreneur Tom Golisano took credit for making the deal happen, and pledged financial resources to defend the two Democratic turncoats, Espada Jr. and Hiram Monserrate. Republicans began parrying attacks about the duo's ethical and legal problems. Democrats said the floor actions were "illegal" and filed a lawsuit. They also locked the chamber, which Republicans burst into to conduct a brief session. A tug-of-war began over Monserrate, with Smith's fellow Democrats talking more openly about deposing him as their leader.
David Paterson raged that nothing was getting done, highlighting his frustration with a development that has at least temporarily extinguished whatever hope he had of engineering a political turnaround.
As the struggle spills into this week, it looks increasingly likely that the legislative session will be extended. Whatever good that does.