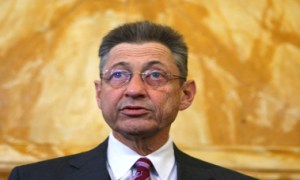 ALBANY—There are still murmurings by opponents of mayoral school control that, even with the State Assembly's solid majority vote for the legislation, they will try to dilute the law that is eventually enacted. But Speaker Sheldon Silver has different ideas.
State Senator Bill Perkins, an opponent of mayoral control, told me Wednesday night, "We're going to come up with a bill that will represent our vision of what school governance should be."
He said there should be fixed terms for members of the Panel for Educational Policy, and said despite the leadership struggle that has crippled his house, "there have been a few middle way proposals."
"While its not codified, its ready for codification," he said.
Perkins has an ally in State Senator John Sampson, the newly selected conference leader. He told reporters Wednesday that the Assembly bill is "not something I would want to vote for." He is a sponsor of a bill, along with Perkins, that would dilute the mayor's power.
I saw Sampson duck into a meeting with Sheldon Silver this morning. Afterward, Silver put out this statement:
"While Speaker Silver is of course always open to negotiation on critical legislation with our partners in the Senate and the Executive branch, the Speaker strongly believes the legislation adopted by the Assembly yesterday to strengthen and improve governance of New York City's public schools addresses the concerns raised by legislators in both houses and is the best way we can give parents a more meaningful role and the ability to be heard at every level of the school system while making the system more transparent and accountable. Speaker Silver would not support an extension of the law that included fixed terms for members of the Panel for Educational Policy."
The Assembly is scheduled to adjourn on Monday, the last day of the legislative session, and the conventional wisdom is that Silver's play has forced the State Senate's hand—it's unclear if that body will be able to act on legislation by that time. Should Republicans win control of the State Senate, they have said they will pass the Assembly's bill.
"In order for a bill to become a law, there are three entites that must act," said Billy Easton, who was not happy with the Assembly legislation. "Only one of them has acted."
The law giving the mayor control over schools expires June 30.