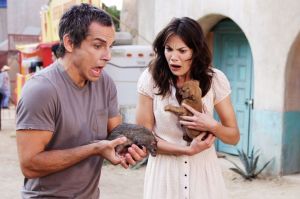 It's 2 AM and you awake with a jerk, alone in your fully-lit apartment and still on the couch. On TV, the credits of some movie you've already seen a billion times are scrolling by. It feels like rock bottom. And we know, because we're just like you: single.
Need a movie to keep you company until you literally can't keep your eyes open? Join us tonight when we pass out to The Heartbreak Kid [starting @ 10 p.m. on HBO Signature]
Why we'll try to stay up and watch it: We're not going to sit here and say we feel bad for the Farrelly Brothers. After all, it's not like they've fallen off the map—their next film, about the Three Stooges, is set to star Sean Penn, Benicio Del Toro and Jim Carrey, as Larry, Moe and Curly, respectively. But it still feels like an injustice that Peter & Bobby never get any credit for being true genre trailblazers. The world seems to have forgotten that before Judd Apatow, they were the go-to directors of sweet-and-sour romantic comedies… for men! Dumb and Dumber, Kingpin, There's Something About Mary: Underneath all the bodily fluids and stupid pratfalls, these are films bursting with heart. No one loves the underdog like the Farrellys.
A remake of Neil Simon's comedy classic, The Heartbreak Kid, about a guy named Eddie (Ben Stiller, the brothers' very own Cary Grant), who falls in love with Miranda (Michele Monaghan, as fantastical as Cameron Diaz is in Mary), while on his honeymoon with Lila (Malin Akerman, a stunt double for Ms. Diaz), fits perfectly with the rest of their comedies—the hairstyles are ridiculous, the humor is foul and the romance winds up being oddly appealing. Unfortunately, the film came out at the height of the Apatow Revolution in the fall of 2007 (that summer had just seen the one-two punch of Knocked Up and Superbad do nearly $270 million at the box office), so it was roundly rejected by critics and audiences alike. The consensus seemed to be that, after something like Superbad, the idea of watching a grey-haired Ben Stiller take a champagne cork to the face was about as fresh as someone slipping on a banana peel.
But a funny thing about that: Despite its dullish edge, the movie still works! The jokes scatter like buckshot; some of them miss badly (so much of what happens to Ms. Akerman's nagging wife is wildly misogynistic), but so much is thrown out at once that you're bound to find something to laugh about. Sometimes banana peels are funny too.
When we'll probably fall asleep: It is hard for us to stress how much we adore the ending to The Heartbreak Kid, which, in keeping with the Farrellys oeuvre, is both thoughtful and ridiculous. The basic question posed is this: When it comes to relationships, can you ever really move on? And leave it to the Farrellys to answer that with an expletive. So we'll make it until 11:56 p.m., 116 minutes into the film, when Miranda comes back to tell Eddie she loves him. We won't spoil what happens next, but it might contain the very best use of David Bowie's "Suffragette City" in movie history. Wham, bam, thank you ma'am, indeed.