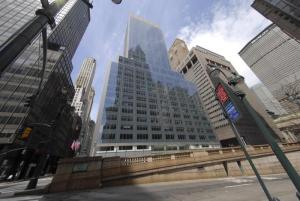 Aetna has signed a 10-year lease for 40,000 square feet at 100 Park Avenue, SL Green's recently overhauled glass-clad lovely near Grand Central Terminal.
Marc Holliday, SL Green's CEO, let the news slip during remarks Wednesday morning in a well-appointed, packed room full of real estate types on the fourth-floor of the Waldorf Astoria. The occasion was a conference hosted by NAREIT (The National Association of Real Estate Investment Trusts).
"Rents in the city have gone down fairly significantly but with that said, if you have the ability to meet the market and the balance sheet to meet the market, there's still velocity," Mr. Holliday remarked.
"Monday we signed a lease with Aetna insurance company over at 100 Park Avenue for 40,000 square feet…a brand-new lease," he said."And we announced several weeks ago the leasing of 60-some-odd thousand square feet to Marcum & Kliegman, which is an accounting firm, [at 750 Third Avenue]."
( Bill Korchak of Jones Lang LaSalle represented Aetna in the 100 Park transaction, while SL Green was repped by Cushman & Wakefield's Tara Stacom, Mitt Liebersohn, Alexander Chudnoff, Jonathan Tootell, and Andrew Ackerman).
In fact, Mr. Holliday and his colleague Andrew Mathias, the president and chief investment officer for SL Green, were veritably bullish on the prospects of the midtown rental market, perhaps to be expected from a publicly traded real estate firm. But still…
On the likelihood of a return of foreign investors to New York, Mr. Mathias said: "There's still a tremendous amount of worldwide interest in New York City. Maybe domestically, people's impressions of New York were more dire than they were worldwide….[But] nobody wants to take the leap, jump in, and wind up acting too early and feel foolish a few months later."
Mr. Holliday added: "As manahttan rents reset themselves, pretty sizably to rents that will be considered affordable, I think [midtown] will retain a large part of our base and see inflow. …I think you see migration out when rents get to $100 to $150 a square foot."
drubinstein@observer.com