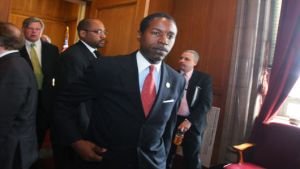 ALBANY—The Democratic lawsuit expected to be heard again in Supreme Court this morning is stalling negotiations over the State Senate leadership, and allowing State Senator Malcolm Smith to keep his tenuous hold on the position of conference leader.
Several Democratic senators said that Smith would have been deposed—likely for State Senator John Sampson—were it not for the pending litigation. One argument advanced by the Democrats is that no vote was taken to remove Smith during the floor coup last Monday; as such, he remains majority leader for a two-year term.
"Possession is nine-tenths of the law," one Democratic senator said. "And right now that's Malcolm. Even if we win, we won't have 32, and you need 32 to be majority leader. That's his only chit."
Smith's departure had been a condition for State Senator Hiram Monserrate, who along with State Senator Pedro Espada Jr. defected to form a coalition with Republicans, to return to the Democratic fold. Democrats involved in negotiations expressed confidence that Monserrate would return, but have given up on Espada Jr.
"He's too far out there," one said.
The pressure kept building on Monserrate this weekend. Saturday evening, he told Eliot Brown that "I agreed to a bipartisan coalition—that was my agreement—a bipartisan coalition."
(He also called Sampson "a fine gentleman.")
It doesn't appear that any other Democrats will join the coalition. So were Monserrate to flip back—he told Juan Gonzalez on Sunday he was "coming home"—the chamber would be tied, nightmarishly, at 31-31.
"Then the big question is whether the leader position has been settled or not. If it has not, then 31-31 is essentially a meltdown," said Bob Ward, deputy director of the Rockefeller Institute for Public Policy. It can be argued that the majority leader, which may be settled by Supreme Court Justice Thomas McNamara today, gets an extra, tie-breaking vote.
In any case, the majority leader sets the legislative agenda. I asked Ward whether anything would get done with a perfectly divided chamber.
"No doubt there would be some tied votes," Ward said. "But I suspect that given the mood of the voters these days, the legislators would not engage in all-out war for long. They leave themselves more and more open to a 'throw the bums out' mentality."