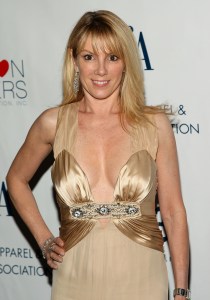 The rain was pouring, but the beach balls were bouncing around Polish Hall in Southampton on Saturday, June 20, at the 10th annual Love Heals charity event, benefitting H.I.V./AIDS education.
A topless male lifeguard stood at the front door as guests walked in, relieved that the party location was changed at the last minute to an indoor venue. They were welcomed by a Nathan's hot-dog cart and plenty of Skyy Vodka.
Perhaps feeling soggy after what has seemed like a month of continuous rainfall, many of the promised famous guests, like Ivanka Trump and Russell Simmons, didn't show up. Thank goodness for fashion designer Charlotte Ronson!
A Nightingale-Bamford alumna, Ms. Ronson said she remembered very well being 16 years old and having members of the Allison Gertz Foundation, the organization behind Love Heals, come to school and speak. "Obviously, I was affected," she said.
She seemed please with the change of venue. "It's cozy; it's nice to, you know, not be freezing! A little heat!"
And don't even get us started on what was happenin' on the dance floor!
Reality TV star Romana Singer from the Real Housewives of New York City was waving her hands in the air.
"This weather sucks, but I did get my tennis in this morning, so that was good," said Ms. Singer, adding that she has a home in Southampton. "Which I love. "
Ms. Singer talked extremely fast, telling the Transom everything from how much she loves her gardens, to making sure her daughter's relationship with her father is extremely strong, to her own jewelry line, which " is saving my husband so much money!" she exulted. "My jewelry line ranges from $200 to $500. My husband loves it because now I don't have to go out and buy jewelry, I can wear my own! I don't really like shopping, though, and I don't really like going to girls' luncheons. Working gets me going. This show helped me with my creative juices."
In the midst of one Ms. Singer's numerous tangents, she stopped talking mid-sentence and scurried back to the dance floor, shouting: "I love this song! I gotta dance to this song!"
Waiting for her husband to retrieve the car to go back home, fashion designer Cynthia Rowley said she came because her friend John Bartlett was involved.
"He's been a friend of mine for a very long time. And Charlotte!"
Seemingly oblivious to the downpour, Ms. Rowley was clad in white short-shorts and a black top. "I guess I never think about my wardrobe in terms of the weather," she said. "I guess I wouldn't let the weather dictate it. I don't think I'd have my big Wellies on!"
By 10 p.m., women in the packed room were taking off their sweaters." It's so hot!" said one female guest to her date. "Wow, I haven't said that since last summer."