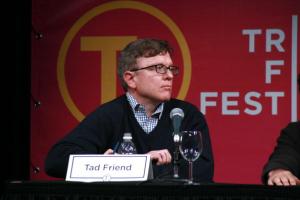 On the evening of Tuesday, June 23, women costumed in Lilly Pulitzer coral and men in pink button-down shirts gathered at Elaine's to celebrate New Yorker writer Tad Friend's memoir-cum-WASP history, Cheerful Money: Me, My Family, and the Last Days of WASP Splendor, which will be published by Little, Brown in September.

Mr. Friend was clad in a distinctly non-WASP-y faded brown blazer paired with Vans. He described the book to The Transom as a "condemnation of the things you think when you think 'WASP,' which means privileging the head over the heart…it's not a pox on all your houses, it's a pox on some of your houses." Hmmm. He also cited the importance of "writing thank-you letters and looking people in the eye when you shake their hand."
Mr. Friend, 46, considers the WASP a subject for study, not an object for scorn. Sort of like Times columnist David Carr did for his memoir, The Night of the Gun, he reread all his old journals and talked to relatives and ex-girlfriends "about whether I was a mild jerk or a total jerk" to use his childhood as evidence for "weighty claims about WASPs." He added that he spent much of his young life attempting to fully escape the WASP lifestyle and eventually realized that he hadn't, and probably couldn't. "WASPs are all still here. They're probably all around us now on the Upper East Side. It's just that no one pays attention to them anymore."
For his part, Mr. Friend lives in Brooklyn with his wife, occasional Times food columnist Amanda Hesser, and their young twins. Ms. Hesser was not present at the festivities, so we left it to Mr. Friend to comment on the ironic little appetizers on offer: deviled eggs, pigs in blankets, and crust-free watercress sandwiches. "The same hors d'oeuvres that I moved to New York to get away from," he said.
After remarks from Mr. Friend and Little, Brown publisher Michael Pietsch, who praised Mr. Friend for "illuminating a secret code that we all hope to understand," a tall, blond gentleman strolled by Elaine's, his head bobbing above the glass windows. He had a lacrosse net balanced over his arm. Vive le WASP!