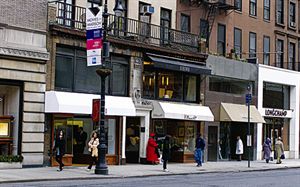 "I think the retail and the real estate markets are going to tank because there isn't enough money to pay the rents," said Perry Rothenberg of JDF Realty, who added that the downward spiral is already happening. "The down cycle is a snowball: it'll take several years before things come back."
Mr. Rothenberg added that the national economy is still "very soft," and the government's massive bailouts have yet to trickle down to "the average businessperson."
Other real estate brokers at the cocktail party hosted by Faith Hope Consolo of Prudential Douglas Elliman, held at 717 Madison Avenue, part of which is on the market, echoed Mr. Rothenberg's gloomy but forthright scenario.
Cengaver "Jango" Keraliso of JDF Realty predicted that the industry is going to "tank" in one or two years.
"The backbone of the commercial real estate market is not broken yet. Once it's broken, it's going to take 10 to 12 years to fix it," Mr. Keraliso said. "We don't feel it yet, but we are going to feel it to our bones."
Daniel Kahn of the Kaufman Organization predicted a similarly long-term recession.
"Since this is the worst economy since the Great Depression, and that took a decade to turn around, realistically I think five to seven years is the best we can expect," he said. Mr. Kahn added that the real estate industry cannot expect the government's response to shorten the downturn. "I think the reality is that the economy has tanked," he said.
Richard Livert of Prudential Douglas Elliman, on the other hand, offered a more playful assessment of the economy. "The market will pick up on April 12, 2010, at 3:22 p.m.," he declared, raising his glass of wine. "Not a lot of people know that." But he jabbed his thumb at his chest and whispered, "I know."
Many brokers at the event were more characteristically upbeat. A number of them predicted that the real estate market will start to pick up as early as the end of this year.
Barry M. Bernstein of AMBAR Realty said that the residential market will first see an upturn in December 2009, and the commercial and retail real estate markets will follow in the first quarter of 2010.
"When demand starts picking up," he said, "people are going to start jumping in."
Michael Chow of ARPOLE said that he believes that the real estate market will start picking up at the end of this year and in early 2010, but added that it's going to take at least three years for the economy to get "back into full gear."
Ms. Consolo's middle name, Hope, matched her even more optimistic outlook for the high-end retail market, which she said is already stabilizing.
"The bleeding has stopped," she said. "Rents have stopped going down. I think at the end of the summer, things will really pick up, and we're looking forward to a strong fall season."
Ms. Consolo added that although the recession has hurt sales in luxury items, luxury retail "will come back—but in a more well-thought-out way," offering the prospect of "affordable luxury" with a wider variety of prices and options.
In the meantime, Ms. Consolo—also an opera fan—has felt confident enough about the market to invest in the New York City Opera. She has donated the space at 717 Madison Avenue to the City Opera for four days—June 25 through 28—for a pop-up shop that will sell designer clothes (from Valentino to Versace and Cynthia Rowley) in addition to accessories and furniture—with all proceeds benefiting the opera. The City Opera's retailers will set up shop next Wednesday, June 25, and the sale will go on from Thursday through Saturday.
Eric Hagmueller, the New York City Opera's retail director, said that he is both nervous and excited about setting up an entire designer store in one day. He added that he is hugely grateful to Ms. Consolo.
"Since the event is called the DIVA'S Shop for Opera," he added, "she has become my new diva."
bkavoussi@observer.com