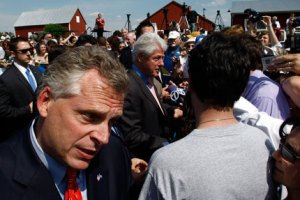 Terry McAuliffe, the unflappably cheery Clinton family confidante, became such a favorite of the Washington press corps last year that they took to referring to him good-naturedly by his nickname, "The Macker."
After the election, the former DNC chairman took his media celebrity, if you can call it that, and set out to exchange it for the governorship of Virginia, where he's lived for the past two decades or so.
But Virginians have apparently been resistant to his charms. On the eve of the Democratic primary, McAuliffe, despite a whopping financial advantage and personal assistance from Bill Clinton, is now on the verge of losing—big. A Public Policy Polling survey released this morning shows him trailing Creigh Deeds, a state senator from rural Virginia, by 14 points. And a new Survey USA poll has Deeds 12 points ahead of McAuliffe.
If McAuliffe does go down to defeat (a prospect that once seemed unthinkable), Virginia Democrats should breathe a sigh of relief, because they are far better off without him in the fall.
The main problem with his candidacy is that he can be so easily caricatured—the slicked-up, fast-talking, jet-setting, big-bucks wheeler-and-dealer who doesn't "get" ordinary Virginians. After all, to the extent they'd ever heard of him before this campaign, Virginia voters knew McAuliffe as Bill and Hillary's moneyman and a creature of Washington, not Richmond.
His other Democratic opponent, former state delegate Brian Moran, seized on this image problem in his television ads, which helped erode McAuliffe's once-strong lead and clear the way for Deeds' late surge. Moran's first spot, which hit the airwaves two weeks ago, attacked McAuliffe for profiting from "insider deals."
"McAuliffe has made a fortune investing, sometimes in companies that went bust, laid off thousands and drained employee savings," the ad alleged. "Barack Obama ran against exactly the kind of big-money politics that McAuliffe represents."
The use of Obama's name was significant, too. Virginia was one of Obama's strongest primary states last year; his 65-35 percent thumping of Hillary Clinton last Feb. 12 was a key component of the 11-state winning streak that ultimately provided him with his delegate margin of victory. Moran and Deeds have not been shy about reminding Democrats of McAuliffe's loyalty to Clinton during (and long, long after) that primary.
Whether these attacks are fair isn't really the issue. What's significant is that they worked. About a month ago, McAuliffe enjoyed a comfortable lead in PPP's polling—10 points over Moran and 16 over Deeds. Now, McAuliffe's support seems to be collapsing by the minute, and he's a lot closer to third place than he is to first. If McAuliffe had this much trouble overcoming his image in a Democratic primary, you can only imagine what the fall would be like.
McAuliffe's trump card is supposed to be money. As a Clinton supporter and as chairman of the DNC, he raised oodles of it—enough to finance the construction of the party's new national headquarters in 2004. And he's lived up to that reputation as a candidate, leaving his rivals in the dust on fund-raising. But while his initial heavy media buy bought McAuliffe a significant lead, his subsequent spending has had little effect; his poll numbers have been dropping. This is a clear indication of the limits of the power of his money.
The chief beneficiary of McAuliffe's decline has been Deeds, who came microscopically close to winning election as attorney general in 2005, losing by 360 votes to Republican Bob McDonnell—the same Bob McDonnell who is now running for governor.
Deeds' rise can partly be attributed to the sparring between McAuliffe and Moran, which has prompted frustrated voters to look his way. But it is also a sign of pragmatic thinking by Virginia Democrats: Among all voters, Deeds scores a 57-to-14 percent favorable rating, best among the three candidates. By comparison, McAuliffe is saddled with a woeful 40-40 percent mark. McAuliffe would go into a general election with much of the jury already poisoned against him.
Meanwhile, Deeds, with his rural roots and moderate reputation, has the potential to appeal to the same Republican-leaning corners of the state that former Governor Mark Warner relied on in his successful 2001 campaign. And his unexpectedly strong performance in the 2005 AG's race should inspire confidence in his potential appeal. Republicans would much rather run against McAuliffe than him.
Virginia has this decade become far friendlier turf for Democrats, who have won two gubernatorial elections, two Senate elections and one presidential election in the state since 2001. But it remains an exceedingly winnable state for Republicans, especially with a Democrat in the White House; this is a state that hasn't elected a governor from a sitting president's party since 1973. If McAuliffe is at the top of their ticket, Democrats will have a tough time reversing that history this fall. It's a reality that Virginia's Democrats seem to have realized.