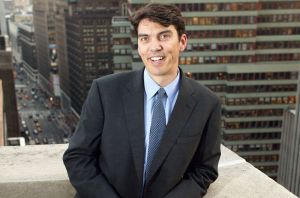 Today, June 11, AOL annouced that it is acquiring Patch, the New York–based start-up, as well as Going.com, a nightlife event guide "for people who love to go out." Patch's sites, which currently cover six towns in New Jersey (with four more in development, according to Patch's chief executive Jon Brod) are hyperlocal neighborhood information portals that combine journalism from professional reporters with information from local government. The sites also include various platforms for users to submit pictures, stories and videos. No surprise on the Patch news, since the company was co-founded by Tim Armstrong, Google's former vice president of advertising sales and now AOL's new chair and chief executive. His statment from the release:
"Local remains one of the most disaggregated experiences on the Web today — there's a lot of information out there but simply no way for consumers to find it quickly and easily," said Tim Armstrong, AOL's Chairman and CEO. "It's a space that's prime for innovation and an area where AOL has a significant audience and a valuable mapping service in MapQuest. Going forward, local will be a core area of focus and investment for AOL. The acquisitions of Patch and Going will help us build out our local network further with excellent local services that enable people to stay better informed about what's going on in their neighborhood."
But local isn't just "a core area of focus and investment" for online companies. It's a storied Times issue—and now their zoom level is getting even smaller.
NYTimes.com's The Local news Web sites (which cover, in part, Patch's territory in New Jersey) just debuted a new feature that will take the community cue and allow readers to cover meetings, write articles and contribute photos and videos to the Clinton Hill and Fort Greene blog. They might even get some decent writing in there—these neighborhoods are the heart of the Brooklyn Literary 100, after all!
Last week, The Local published a post about "Be the Journalist."
Through this mechanism, you will ask us to cover things and we will do it. We will ask you to cover things on a regular basis and, we hope, you will do it. More and more important neighborhood things will get covered. The blog will grow. It will be beautiful.

Here is your first assignment: We're looking for someone to go to the 88th Precinct Community Council meeting next Wednesday, the 10th.
Another post provided the date, time, location, and even outlined the issues of an upcoming community board meeting and asked readers to attend, on a volunteer basis.
"We're looking for someone to go, take notes, take a photo and write up the festivities. Get exact quotes and names of the people you're quoting. And send the results to us by early Thursday morning. We can explain the details and give you basic training."
Today, The Local is looking for users to submit "Yucky Weather Photos."
Certainly, The Times is catching on to "user engagement," not just on their Local blogs, but with features like TimesPeople. The Observer recently reported on a discussion with The Times' magazine writer and Wired columnist Clive Thompson on games and the news. He said newspapers should consider integrating gamelike "leaderboards" into their sites—giving the best commenters, bloggers and participants incentives, whether they be shoutouts or high rankings on the site. "You could regard The New York Times as its prime value is it's a fantastic leaderboard, right?" Mr. Thompson said at the talk. "It is a great place to create variety and rewards for people."
So what's the reward for The Local's community journalists who suffer through those community board meetings? They'll get their bylines on a NYTimes.com blog, which doesn't look too shabby on a résumé these days.