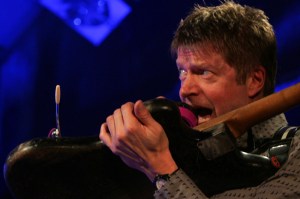 The death of Michael Jackson has prompted a flood of articles declaring him the apotheosis of pop stardom, musical success, and universal appeal. This past century of recorded music, writers say, culminated in Michael Jackson, and there will never be another.
They're not wrong: Jackson's deep well of talent and charisma, his sense of the total pop performance, and his well-chosen cadre of collaborators made him the King of Pop.
But his kingdom had been dismantled around him by the time of his death.
It probably started sometime in the early 1990s, the last moment of Jackson's real power over record-buying audiences.
After that was Napster and the following tide of file-sharing; corporate consolidation of record labels, radio, and music venues, and the concomitant lack of any oversight over the spending habits and business models of the majors; the disappearance of the local record shop, followed quickly by the disappearance of the chain-megastore record shop. Superstars are simply less super these days, while artists still oddly called "indie" are making more money than their college-rock or alternative ancestors could ever have dreamed, and hogging up too much of the market to leave room for a King. The kingdom of pop is now a capitalist republic.
If you'd pointed your Web browser to NPR.org in the past couple of weeks, you might have found yourself listening to a live stream of Wilco's seventh studio album, perhaps the band's best. Out today, it's called Wilco (The Album) and leads off with the track "Wilco (The Song)," as a bizarre kind of Spaceballs tribute.
If you had taken yourself hence to the band's Web site, where the album had streamed a few weeks before, you'd have found lots of information about the album, the band, upcoming tours, news, and an iPhone app as the cherry on top.
Also on NPR's site last week, you might have found yourself listening to an interview with Matchbox Twenty lead singer Rob Thomas, whose sophomore solo release is also out today. Moving thence to his Web site would have linked you to streams of his album on VH1.com and Rhapsody, the music download and listening site, as well as to scores of interviews, photos, and more, and even a new track exclusively available on iTunes for a premium price of $1.29.
These are the results of a revolution in the music business that is long completed. But the notion that the ultimate indie-Americana outfit, the scrappily splendid Wilco, and the certified platinum popster Thomas, best known for his duet with Carlos Santana, the tellingly titled "Smooth," should share practically identical marketing models is worth noting. Selling oneself in the wired era isn't some sort of magic formula available only to Radiohead and Trent Reznor. It's everywhere, as artists adapt faster than the crumbling major labels can. They are saving pop one band at a time, and so the spoils will be divided among those who do the work.
Wilco has never had a Top 40 single, and while they are signed to a subsidiary of a major label, how they got there is a world away from the Olympian stature of Thomas, whose tenure with Matchbox Twenty and solo career has been a mainstream mainline all the way.
In the mid-'90s Reprise signed the fledgling indie Wilco seeking riches from the alternative craze like many of the other majors. By the time of its breakthrough, 2002's Yankee Hotel Foxtrot, Wilco had grown into a successful touring band (selling out 2,000-seat venues without much trouble and making a good living), but its albums weren't stellar sellers, and so Reprise had grown tired.
When Yankee Hotel Foxtrot displeased Reprise executives, they released the band and, as though to show no hard feelings, allowed it to keep the album.
The band decided to digitally stream the album on its Web site, in this state of corporate limbo, mainly to shore up interest in an upcoming tour. Streaming an entire record was practically unheard of, and if the band had still been on Reprise, it is unlikely to have been permitted.
Hundreds of thousands of listeners came, far more than the band ever expected. Nonesuch Records picked them up (they're still signed there), a label which is, coincidentally, a division of Warner Bros., just like Reprise.
Warner Bros. had now paid for the album twice. But it was only because of the band's own intervention that the album sold twice as many copies as any of its previous efforts on Warner. Giving away the music had worked. It's a formula that still puts Wilco at the leading edge of the pop music business, honed to sharpness since the band's first stab in 2002. The band still makes most of its money on the road, and knows that all the streams and the iPhone apps do is to get their songs into the ears of potential ticket-buyers (of course, to record buyers, too, but that hardly matters from a business point of view). Sales going up means concerts sell out, and these days Wilco can sell out venues much larger than 2,000-seaters.
Wilco (The Album) takes the lessons of early mission statements and later experiments and fashions songs that feel like a band based on flux is starting over with the lessons of its wanderings fully in mind. The country-rock classicism of A.M. and Being There, the chamber-populism of Summerteeth, and the crackled brilliance and deep grooves of YHF and A Ghost Is Born and even the frazzled comedowns on Sky Blue Sky are all mapped onto the sound. It's mainly a grim affair, pinioning between melancholic love—via sweet, syrupy folk rock like the Feist-Tweedy duet "You and I" ("However close we get sometimes/ it's like we never met")—and all-out murder—"Bull Black Nova" ("Blood on the sofa/ blood in the sink/ blood in the trunk") a squalling, relentless wash of noise and force owing much to Nels Cline's fresh, ambitious guitar work. Yet in the end, the album seems resolved, after 11 songs, to a kind of tense optimism. It's an apt metaphor for the arc of their career.
In addition to his NPR Q&A, Rob Thomas partnered with VH1 and Rhapsody to stream his new album, Cradlesong, for the past two weeks prior to its release. He offered exclusive tracks on Rhapsody, hosted a Twitter "contest," and presented an "innovative advertising campaign" aimed at hard-core Thomas fans and utilizing anecdotes and trivia from throughout his career to appeal directly to his fan base.
In the press release, Thomas is quoted: "Working with Rhapsody and VH1 has been a unique experience, enabling me to interact with even more of my fans. All of the different aspects of this campaign will allow me to reach an even bigger audience."
It's hard to take seriously the notion that a multi-platinum artist (sales of more than 80 million albums) could expect to attract a larger audience by going online. Two of the truisms of the Internet are that an abundance of options oddly narrows the perspective of most potential customers and that even a "multi-platinum artist" utilizes the Web mainly to create a direct connection with existing fans.
It's not as though Wilco is reaching out to Black Eyed Peas fans, or that Mr. Thomas is trying to recruit the Belle & Sebastian set. Both are simply trying to connect with listeners who are already out there, already online, who already like them. It's a question of converting that avid fan base into money. And that's one thing Jackson didn't have to worry about.
The first-week totals for these two artists are bound to be fairly divergent, but solid in their own ways. Neither will scrape the mass, intersubjective consciousness of the public the way Michael Jackson did. Mass communication, the vehicle of superstardom, is too fractured, too specialized, to allow that for the real pop stars of the moment.
The King of Pop is dead; long live the Republic.