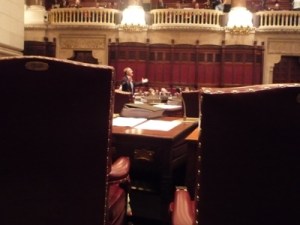 ALBANY—Thursday was a day of circular progression back to a stalemate in the battle over State Senate leadership, with a Democrat almost joining the Republicans on the floor for their daily routine of "session," but not, and Democratic lawyers almost re-filing a restraining order against State Senator Pedro Espada Jr., but balking at the bench.
One thing grew clearer by day's end: a growing sense of futility and greater disconnect between the parties. As a result, I've started to hear more people on both sides of the aisle giving credence to the idea of an extraordinary session called by David Paterson, where he sets the agenda, as he threatened to do last week.
Paterson's power is spelled out in Article IV Section 3 of the State Constitution: "The governor shall have power to convene the legislature, or the senate only, on extraordinary occasions. At extraordinary sessions convened pursuant to the provisions of this section no subject shall be acted upon, except such as the governor may recommend for consideration."
As in, the active list of bills to be considered—a power normally afforded the president pro tempore, a highly-disputed position right now—would be set by the governor.
"It's all about the active list, I don't think people understand how important that point is," State Senator Eric Schneiderman, who has been playing the role of Democratic legal geek, told me the other day. He said as much on the radio, too.
We went through this a few months ago when Paterson threatened to call an extraordinary session to deal with the M.T.A.'s deficit. At the time, former Cuomo aide Patrick Brown told Liz that while legislators don't have to vote on the bills in front of them, they do have to gavel in. Since almost everybody at this point has written off any controversial legislation, why not create a list of the extenders and local bills that Paterson said Tuesday were so desperately needed, the Assembly's version of the school governance legislation and an extension of the Power for Jobs program?
If Paterson were feeling ambitious, he could even add same-sex marriage to the list. He has repeated time and again that he wants to see that measure acted upon, and, preferably, passed.
On Tuesday, Paterson said he was loath to interfere in the inner workings of the Legislature's legal process, buttressing his hand-washing rationale with a court decision saying it would be an "improvident intrusion" for the co-equal judiciary branch to get involved. But at the same time, he blasted legislators for not doing the people's business.
For Paterson, it could be the "opportunity" he's been looking for in this crisis. For Republicans, it would be an acknowledgment that the bills they've talked about passing for days will move forward, and a small victory on school control. Democrats have a finer line to walk: Republicans now have the perception of possession of the Senate chamber, and would likely insist on presiding over the extraordinary session. It might be hard to entice Democrats to walk in with a Republican on the dais.
"But I suspect that given the mood of the voters these days, the legislators would not engage in all-out war for long. They leave themselves more and more open to a 'throw the bums out' mentality," Bob Ward, deputy director of the Rockefeller Institute for Public Policy, told me when we spoke generally about legislative dithering.
Plus, there's Schneiderman's argument that it wouldn't be an acknowledgment of actual power since the active list and call to session will be coming from the governor; running the floor could theoretically be academic. Democrats would have the cover of simply responding to the governor's call to action.
Will he do it? At the end of Thursday, Paterson aide Marissa Shorenstein put out this statement: "The Governor's office earlier today looked into the question of whether or not members of the Senate are eligible to receive their salaries with no presiding officer agreed upon to authorize payment.  It turns out that both conferences have come together and signed appropriate documentation to continue receiving their salaries. So there is a power sharing agreement—but it only includes getting paid.  If the leadership of the Senate can agree on a way to keep getting paid, they can reach an agreement to get back to work for the people of New York."
We'll see.
UPDATE: Looks like it's on, according to an administration official.