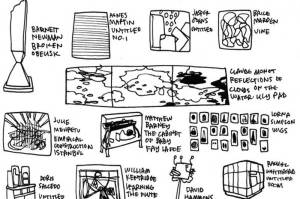 Jason Polan is trying to draw every person in New York, at the rate of 15 to 20 sketches per day. The other day he was working on number 5,000 and something: an old hippie in a muumuu, his lined face hidden by a mop of bleached hair and oversize shades, eating nachos by himself in the gritty Taco Bell off of Union Square.
Mr. Polan, 26 and a native of Michigan, draws men sleeping on the E train, Lily Tomlin on her cell phone, you on your lunch break. "Maybe they'll be wearing something sort of crazy or they'll have an interesting shape or I like how their clothes fit," he said.
He heads the Taco Bell Drawing Club, which now contains more than 120 members in different locations across the country. Mr. Polan is fond of numbers. He has sketched every piece in the Museum of Modern Art (1,503 paintings, photographs, sculptures and designer watering cans); 387 buttery kernels in a bag of microwaved popcorn; and every person in the phone book of Skykomish, Wash. (population: 217). People from 100 countries have visited his blog, everypersoninnewyork.blogspot.com. He has made 63 books, some collaboratively, all with literal titles like The Every Piece of Art in the Museum of Modern Art Book. Once he had his mom shave his head and attempted to draw every hair, but didn't have the stamina.
"Wasn't it Marx who says, 'There's a quality in quantity?'" said Mr. Polan, who lives in a studio apartment on 53rd Street, filled with collections of View-Masters, books and maple syrup bottles. "I try to make a lot but I also want it to be good."
Next he wants to draw every item—more than 30,000—in the Museum of Natural History.
"People think a lot of my projects are a gimmicky thing, and it does have a little bit of that to it," Mr. Polan admitted. He's also been using food coloring to turn his food and drinking water different shades of teal.
Face-to-face interactions between the artist and his subjects are few. He doesn't like to draw people he knows, nervous they won't turn out right, and he doesn't like his subjects to notice him. Email him at art@jasonpolan.com where you'll be for any two-minute window, and Mr. Polan will take three trains to get to you, but don't expect him to say hi.
His favorite people-watching perch is the bench outside the Mercer Hotel. Mr. Polan said he doesn't go out of his way to find celebrities but concedes that posting a sketch of Jim Jarmusch on 14th Street or Yoko Ono at a book fair attracts more attention than those of the unrecognizable masses.
One day last fall, Mr. Polan was walking to Rockefeller Center in pursuit of the Burger King in its basement. As he approached, he noticed Saturday Night Live cast member Kristen Wiig. "I think she's really funny," he said. "So I sketched her." The drawing is now on Ms. Wiig's official home page, after the actress' assistant spotted it on his blog.
Other items on his CV: In March 2006, after six months of submitting 10 or 12 cartoons per week to The New Yorker, Mr. Polan sold one of two chubby hamsters in front of an exercise wheel, talking about their cardio routine, to the magazine. It was a huge hit in the Cartoon Bank; he still gets royalties.
And last year he created a comic book for the clothing company Jack Spade based on a real-life break-in that happened at the store.
But it's the challenge of drawing every citizen of New York that keeps him grounded. "It's kind of forever, and I think I'm willing to work on it forever," Mr. Polan said. "If I ever did get close to eight or nine million drawings, which I don't think I could physically do, but if I did, maybe I'd put out a call and say, 'If you haven't been drawn, let me know.'"
editorial@observer.com