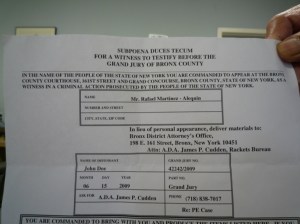 The Bronx District Attorney who is investigating Pedro Espada subpoenaed City Hall gadfly Rafael Martinez-Alequin.
The DA asked Rafael to provide "Any and all video recordings made by you of Pedro Espada Jr." Specifically, the DA asked about material referring to Rafael's allegation that Espada supporters roughed him up for inquiring whether Espada lived in the district during the campaign.
You can watch some of Rafael's video about that incident here.