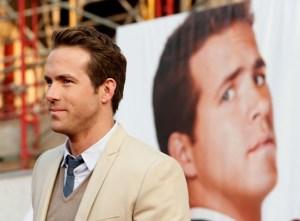 Ryan Reynolds is not a movie star. Oh sure, he's famous—or, at least famous enough to get himself on the cover of Entertainment Weekly to show off his ridiculously chiseled abs—but, no matter how much we'd like to see this likable actor take the next step, it just seems like he'll be forever stuck in the shadows of the B- and C-list. Think about it this way: Bradley Cooper wasn't a movie star either, but now that The Hangover has exploded into a pop culture litmus test ("You haven't seen it yet?"), that dude is a bona fide name. Ryan Reynolds? He might still be best known as Van Wilder.
Sadly, this should have been the Year of the Reynolds. In March, he co-starred in Adventureland, playing against the normal expectations of a "Ryan Reynolds character" as a charming-womanizer-who-really-isn't-all-that-charming-but-is-kind-of-a-loser. (P.S., is it too early to call Adventureland the most underrated movie of 2009? We didn't think so.) Then in May he was the only supporting actor who managed to survive X-Men Origins: Wolverine with his reputation intact (we hope Liev Schreiber cashed a big check for his so-called "work" in that disaster); that film got him top billing in Deadpool, a spinoff film from Wolverine. And out this Friday is the surprisingly not-terrible-looking romantic comedy, The Proposal, where Mr. Reynolds gets to co-star with America's Speed-heart, Sandra Bullock. While we have no doubt that this is another solid performance—The Observer's own Sara Vilkomerson confirms our suspicions in her review—the sheer fact that he's even in The Proposal helps prove our point. Despite the matinee idol good looks and wonderfully quick comedic timing, Mr. Reynolds has never carried anything on his very formidable shoulders. And while that's fine for a young actor, Mr. Reynolds has been knocking around for the better part of a decade. Worse, it seems like he always winds up playing second fiddle in these oddly second-rate enterprises: As much as we love Sandra Bullock, in the last decade are so, she's no Reese Witherspoon when it comes to box office.
(To be fair, the aforementioned Mr. Cooper has never carried a movie, either, but he's also been part of two mammoth successes in the last five years: Wedding Crashers, and now, The Hangover.)
Earlier this week, Movieline wondered if Mr. Reynolds was too good-looking to play comedy; the assumption being that people don't want to see him making jokes because he's so dreamy. We don't buy that premise for one second—this is Hollywood we're talking about, where being good-looking is the coin of the realm—but it shows the lengths that people will go to cut Mr. Reynolds some slack: He's not more famous because he's too hot! We all want him to succeed, but eventually, reality has to be faced; this is a "walks like a duck" situation: Ryan Reynolds is not a movie star, and, chances are, he never will be. Don't feel too badly for him though … he is still married to Scarlett Johansson.