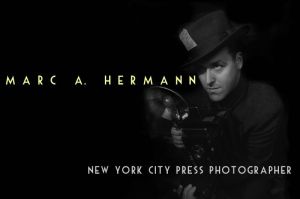 Marc Hermann was at his parents' house in Brooklyn Heights last summer when he heard the news coming across the police scanner just before midnight: a missing woman found dead in Chelsea, then reports of a man having jumped off 55 Exchange Place in the Financial District. Mr. Hermann, a spot news photographer for the New York Daily News, wasn't on duty that night, but he knew news when he heard it.
When Mr. Hermann arrived on the scene, the police had already cut off the bloody sidewalk with a yellow perimeter of police tape. The medical examiner had gone uptown to tend to the other victim, the woman, leaving a white curtain covering most of the man's body, which had partially split after hitting a flag pole on the way down. Mr. Hermann's photo shows part of a leg sticking out from under a blanket of white, and a leather loafer pointing back toward the shrouded pile. In the background, bored beat cops stand in their shirt sleeves, shooting the shit.
Mr. Hermann, 27, has been covering the city's seamy side for over a decade. His job is one for which he is—quite literally—well suited. In a double-breasted suit, polished wingtips, and a fedora festooned with his press card, Mr. Hermann cuts the figure of a noir newsman at the city's crime scenes and courthouses.
Or, to others, a cartoon character. Cops who don't know him often holler, "Hey Jimmy Olsen! Hey Clark Kent!" as he maneuvers around a crime scene
"I get a little sick of that," he told The Observer, injecting his matter-of-fact tone with just a trace of indignation. "I'm not a Spider-Man fan, I'm not a Superman fan. I'm Marc Hermann, a factual character."
"My job there is to be respectful of all parties," Mr. Hermann said. "I'm not there as a vulture or as a ghoul. I'm there because I have a job to do and the fact that I dress this way sort of conveys that I'm there to do the job as a professional."
On that summer night, like any other, being a professional meant putting the gas pedal to the floor, keeping an ear on the scanner, and hopping the curb if need be. Just get the shot. It was a lesson he had learned before he could even drive.
"Yeah, I taught him how to chase," said Todd Maisel, a veteran of the Daily News and a throwback in his own right. In his standard T-shirt and a backwards baseball cap, Mr. Maisel would pick him up when school was out, and the young Mr. Hermann would ride shotgun as they chased breaking news in his Chevy Cavalier. "He was always ready for the action. And I was the right fit for him because that's what I enjoyed," Mr. Maisel said.
"I learned sidewalk driving from him," Mr. Hermann recalled fondly. "In one day, we'd go to Jacoby Hospital [in the Bronx] for a police shooting; by the end of the day we were in East New York where two guys had been gunned down in a deli; then maybe a feature job on Staten Island," he said. When his mentor wasn't around, Mr. Hermann took the subway.
IT WAS THE summer of 1997 when Mr. Hermann, at 15, heard on the scanner that the Spirit of New York, a charter boat, had crashed into Chelsea Piers. He ran to the train and managed to arrive in time to snap photos of the injured passengers being wheeled away on stretchers.
Mr. Maisel arrived late, so he called his editor and asked if the Daily News might want one of the kid's photos. It ran the next day on page three. After that, Mr. Hermann got his press card, with the help of some friends he had made in the local precinct. No one asked about his age.
In May of 2007, after a decade shooting for the Daily News, Mr. Hermann received a special assignment. The city was captivated by Peter Braunstein, the former fashion writer who had dressed up like a fireman on Halloween and set a building aflame so he could break into a woman's apartment and sexually assault her. With his trial set to begin—after a five-state, three-week manhunt—the New York Post scooped the Daily News with the first photos of key evidence like the fireman suit, the fire hat, the incendiary device.
For years, the Daily News had operated without a full-time court photographer, but the paper couldn't afford to get scooped on Braunstein. Mr. Hermann's instructions were simple: Get everything. Every witness, every piece of evidence.
It was a tough assignment. The hallways in the Manhattan courthouse were the only ones in the state completely closed off to press photographers. ("Manhattan's a different animal," explained David Bookstaver, a spokesman for the state court system, and a former photographer for the Post. "Naomi Campbell doesn't get arrested in the outer boroughs or in Chemung County.") So photographers would go up to the courtroom, see what a witness looked like, and then wait in the lobby to see which exit they chose. The building has three exits, which empty onto three different streets.
"If someone is looking to duck you, they have the advantage," said Mike Lipack, the Daily News photo editor, who said he often assigned three photographers to the courthouse, but in this case, was counting on Mr. Hermann.
Mr. Hermann set up shop in the press room on the ground floor, a room already wallpapered with the yellowing Post covers from other sensational trials. There, beneath at least a dozen photos of "preppy killer" Robert Chambers, Mr. Hermann would wait out the inevitable courtroom delays.
"It was not uncommon to see Marc sitting there sewing a pair of old pants for a Civil War re-enactment," said Barbara Ross, the Daily News reporter who covered the Braunstein trial with him. (Mr. Hermann had grown up taking family vacations to Gettysburg, "two or three times a year," he said. He worked at the battlefield for a year in 2005, and he still participates in Civil War parades and re-enactments, as part of a celebrated but short-lived regiment of New York firemen who fought in only one battle.)
Mr. Hermann does not, however, sew his 1940s attire. "Most of what I wear are actually vintage suits, which are harder to find in anything larger than beanpole," Mr. Hermann said. He is slightly stockier than his predecessors, so he's left to scour eBay and flea markets for a fuller cut of the pinstriped, double-breasted suits he prefers. Mr. Hermann said he was inspired by old photographs, where the press corps looked like gentlemen.
After the Braunstein trial, he tried to convince court officials that modern press photographers could be gentlemen, too, and that the building should be reopened to them after having been closed off for decades. In the 1980s, the court had experimented with better access, but the hallways had piled up with lawn chairs and pizza boxes, and the administrative judge threw the press out.
"You look at photographers today and they're wearing T-shirts and jeans and backward baseball caps and photo vests, and we look like shlubs," Mr. Hermann said. "And we wonder why we as photographers or journalists don't get that much respect, people don't take us seriously, people don't want to be photographed."
So Mr. Hermann joined an effort that was already under way. Together, the journalists stationed at the courthouse prevailed on a new administrative judge to open the halls. The judge eventually agreed to the arrangement on a trial basis that remains in effect.