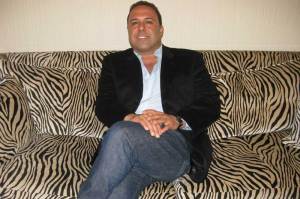 John Mahdessian prefers not to be called a dry cleaner.
"That's a fuckin' insult," he said, between pulls off a Marlboro Light on a recent Sunday morning. "That's like calling a world-renowned surgeon a doctor."
We were outside the nail salon next door to the Madame Paulette flagship, first opened by Mr. Mahdessian's great-uncle Andy as a mom-and-pop dry cleaner in 1958, when it was named for Andy's wife, a French gal who worked as the seamstress. It recently underwent a massive $500,000 renovation and now occupies half the block.
Mr. Mahdessian, 43, is president of what is now called the Madame Paulette Organization, "the world's leading custom couture cleaner." The jovial, self-described "eligible bachelor with a spotless reputation" has been married to his business since taking the reins from his father, Noubar, 20 years ago. ("He thinks girls are like shirts: You have to change them every two weeks," Noubar said wryly.)
John works six days a week. Sundays he treats himself to a mani-pedi and a massage.
Last year, according to father and son, the company made upward of $7 million. "Every single day we receive pieces from all over the world, from Australia, from Paris, from Beverly Hills, from Palm Beach. We've done an Andy Warhol tapestry from a German castle," said Mr. Mahdessian, who drives a Range Rover and lives with two Chiuhuahuas, Baba and Misu. "We do yachts and planes and things like that. We clean any type of fabric, whether they're constructed into a piece of apparel, upholstered into people's homes, velvet walls, antique carpets, Louis XIV chairs. We've done a lot of work for Sotheby's and Christie's." (Including 80 of Princess Diana's gowns, auctioned for a total of $3.5 million.) "We actually are doing the ambassador of Saudi Arabia's—his entire home, right now as we speak, right here in Manhattan." Other clients include MoMA and the Museum of Natural History.
As the ladies went to work on our feet, Mr. Mahdessian told me about his weekend. On Friday night, he'd run into his client, the designer Angel Sanchez, at a club. Tiki Barber and his wife (also clients) were at another table. On Saturday night, he hit the town with Rock of Ages producer Israel Wolfson. A big crowd stood in the way of the rooftop bar at the Dream Hotel. Fortunately, more than a few hotel guests had made use of the Madame Paulette emergency line. (Indeed, that very night, the emergency squad had been dispatched to a Park Avenue home at 11 p.m.: dog vomit, white couch.) Later, the group bypassed the throng waiting to get into Rose Bar at the Gramercy Hotel.
"Everywhere I go, I usually know someone," Mr. Mahdessian said. He is hoping for a star-studded turnout at his 50th anniversary party next week. "I'm a people person."
GOING INTO THE family business hadn't been the plan. But shortly after John graduated from Villanova with a degree in engineering, having accepted a position at Merrill Lynch, Noubar had a nervous breakdown, after thirty years of 14-hour days, no vacations.
John grew up in Little Neck, Queens, always a bit of an overachiever. One summer at Boy Scout camp, he left early because he had already won all the awards. He decided to leave public school to enroll in St. Mary's, a more academically rigorous all-boys Catholic high school in Manhasset. Senior year he was elected school president.
The woman at his feet asked if he would like a massage today. "Why not?" Mr. Mahdessian said. "Might as well, right?"
He explained that at graduation they invented a special award just for him. "Called the spirit medal, because I had so much spirit."
One summer, John worked at Newsday, selling so many subscriptions that they put his name on the plaque on the wall. When he was 17, he and his friend Carl Tashjian got a booth at the Roosevelt Raceway flea market, selling everything from umbrellas to hibachis to gold.
The two friends kept in touch during college, where Mr. Madhessian became known as a fun-loving party animal with a proclivity for doing outrageous things, like showing up to a black-tie event with tails and a tuxedo shirt paired with blue jeans and boots. They called him Johnny Love.
"It was just like, 'When Johnny Love's around, the party's good, you know?" he said, flashing a big smile and requesting a buff, no polish.
Mr. Mahdessian said that his decision to take over Madame Paulette was not a difficult one. Both sides of his family suffered through the Armenian genocide. His mother's father watched his parents die. He used to tell John stories of wrapping his shoes in newspaper because he couldn't afford new ones.
"If my ancestors can sacrifice all that, I can work six days a week, seven days a week, 10 hours a day, 15 hours a day, and, you know, so what if I broke a nail, I can go get a manicure on a Sunday," Mr. Mahdessian said. "It's all about the fact that they sacrificed to give me a better life."
After taking charge in 1987, he would spend the evenings after the shop had closed, tinkering with the different solutions. Once he felt he'd mastered a few things, he went around to all the fashion houses to offer his services.