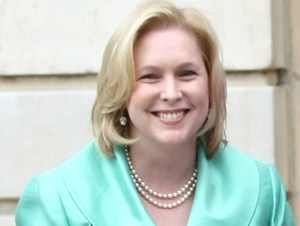 Earlier this month, Kirsten Gillibrand stood in front of the steps of City Hall to accept the endorsements of two more members of Congress and repeated her standard response to all inquiries related to her facing a potential primary challenge.
"For my part, I am very focused on being the best senator I can be," Gillibrand told The Observer. "And I really do leave the politics to themselves. I think they will take care of themselves."
But she's preparing, just in case they don't.
At the moment, it's Representative Carolyn Maloney who is continuing to present herself as a threat to Gillibrand, comparing her lengthy House tenure with her former colleague's by saying, among other things, "She's, to my knowledge, never passed anything.