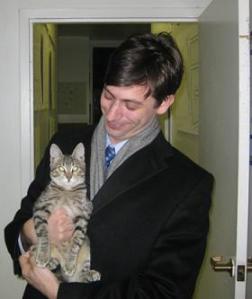 Stephen Levin knows that to his opponents in the 33rd City Council District, he is "Vito's Guy," the machine candidate who has worked since 2006 as chief of staff to Assemblyman and Brooklyn Democratic Party chair Vito Lopez.
"I think that's fine," Levin said with a shrug. "I can't control everybody's perception of it. I would just say that when folks meet me one-on-one, they see that I'm an independent guy and I have my own opinions about things."
Only a small part of Lopez's Assembly district actually overlaps with the 33rd Council District—which stretches along the East River waterfront from Greenpoint to Dumbo—but Lopez looms large over Levin's race, casting an even longer shadow than the incumbent, David Yassky. The powerful borough boss has been frequently, and ominously, invoked at the candidate forums—with the implicit suggestion that Levin would be Vito's man at City Hall.
On Butler Street in Boerum Hill, where Levin recently spent a balmy night canvassing, there seemed to be no Lopez stigma, no "Vito Power" jokes, no talk of investigations. To the residents who answered their door, and those who Levin accosted on the sidewalks, he was endearing, young, hopeful.
"City Council? You look awfully young to be on the City Council," said one basement dweller as he looked up at Levin.
Rail-thin and fresh-faced, Levin, 28, bounded up and down the brownstone stoops with the predictable enthusiasm of a first-time candidate. In baggy gray slacks, a dark tie and rolled-up white sleeves, he proudly introduced himself as the chief of staff to "Vito Lopez, Assembly housing chair," and as the candidate recently endorsed by the Working Families Party.
"I've knocked on probably 2,500 doors and I've gotten probably 1,100 names, and I don't recall a single one having a negative reaction to [Lopez], and a lot of them have a positive reaction," Levin said.
Whether those voters make it to the polls on primary day, and whether they vote for Levin, could be a barometer of Lopez's organizational strength among Brooklyn Democrats. There are at least three candidates running explicitly as reformers in the seven-person race, and outsider groups like the New Kings Democrats and Central Brooklyn Independent Democrats are eager to chip away at the organization's influence.
But Lopez has an entrenched network of support among traditional primary voters. Levin's boss has considerable sway with senior groups and religious groups throughout the district. He has worked closely with Polish seniors in Greenpoint, and with the United Jewish Organization, an influential group among the majority faction of Satmars in western Williamsburg.
Lopez has also been able to use his own endorsement as a chit on Levin's behalf. He recently endorsed Yassky in the race for comptroller, and Yassky—in turn, perhaps—has declined to endorse his own former chief of staff, Evan Thies, who is running against Levin.
"What kind of Democrat are you?" asked one prospective voter who Levin stopped on the sidewalk, after the sun had gone down and it was too late to knock on doors. "Here's George McGovern over here and here's Bill Clinton over her—where are you in the continuum?"
"You know what, this is going to sound like a cop-out, but I'm kind of an Obama-type Democrat," Levin said. "Which, I'm still trying to figure out what that is exactly."
Vito Lopez is hardly Stephen Levin's only mentor. Levin grew up in Plainfield, N.J., but his political roots are in the Rust Belt. His father's cousins are two Michigan heavyweights: Representative Sandy Levin, who has served in the U.S. House since 1982, and Senator Carl Levin, who chairs the Senate Armed Services Committee.
When he was considering his Council run, Stephen called "Uncle Sandy" and they talked for an hour and a half about the ins and outs of the race.
"I think he has kind of a mixture of idealism and a practical view of things," said Representative Levin, in a phone interview.
He called Stephen "immensely likable," and said the "warmth of his personality" would be "an excellent fit" for a campaign largely waged door-to-door. ("Uncle Carl" has also been supportive; he gave $250 to the campaign in April.)
After the encouraging conversation with Sandy, Stephen was "all-in."
That was a year and a half ago, and, in Boerum Hill, Levin still seemed to be perfecting his pitch to prospective voters. He liked to talk about his work on affordable housing, which excited several people on Butler Street, and seemed to bore others. He sometimes rushed to rattle off section codes—like the 421a reform he worked on in Lopez's office, or the federal 202 program that builds housing for seniors—only to have the target of the pitch kind of nod along.
More than once he celebrated with a clenched fist pump when he encountered a registered Democrat (meaning they can vote in the September primary). When Levin saw the last name Levin on a buzzer, he got excited. "That one's a gimme," he said with a big grin. (The gimme Levin turned out not to be home.)
Levin was also prone to a certain candor. "Every day I kind of go home and I say, I'm trying to take on a lot of responsibility here,'" he volunteered to one voter. "It was a year and a half ago that I decided I'm going to go with it, and there's no turning back. But it's pretty heavy," he said.
"You actually remind me of my dad," Levin told Howard Toepfer, a silver-haired man who answered the door of his Butler Street brownstone in a bright, multicolored polo. "I don't know what it is, but you remind me very much of my dad," he said.
Toepfer and Levin eventually bonded over their shared affection for Adlai Stevenson and Police Commissioner Ray Kelly. "Well, unless something terrible happens, you'll get my vote," Toepfer told him. "Any way we can help—get out, beat a tom-tom or two."
Levin's first campaign was a 2004 House race in Kentucky, just after he finished his classics and comparative literature degree at Brown. He had grown up around politics, but he hadn't gotten particularly interested until September 11th, and by the time he left Brown, "I was itching to get involved politically."
He moved to Brooklyn and applied for jobs—including one in David Yassky's office—but no one hired him. "I came out to Bushwick and met Vito and said this seems like a pretty cool place to be," Levin said.
He worked for a year relocating families out of lead-poisoned apartments and ran an anti-predatory-lending program, while he worked on campaigns all over Brooklyn.
Levin learned the nuts and bolts of canvassing. He tries to get the name and address of everyone he encounters—unregistered Democrats, Republicans, even a Trinidadian exchange student—and he follows up with a signed letter thanking each one for their time. He asks to leave Levin fliers when residents say they're too busy to answer the door, and he pushes his Levin buttons to anyone who will take one. He is especially generous with his red-white-and-blue Levin pens—"old school," Levin says—which seemed, based on limited circumstantial evidence, to be a hit.
In 2006, Lopez tapped Levin to be his chief of staff. "Working in his office was very instructive about how to use the levers of government; that's what makes him an effective assemblyman, a very good assemblyman in his district," Levin said. "He can move mountains."
Levin's cell phone number is printed on his fliers, and he told nearly everyone on Butler Street to call him if they had any kind of a problem—from the proverbial pothole to trouble with a city agency.
If Lopez is generally acknowledged to be a political force in the area, he is not universally regarded as a benign one. Recently, for example, there have been allegations that Lopez tried to silence criticism of a plan that he supports for Broadway Triangle, a development project at the borders of Williamsburg, Bed-Stuy and Bushwick. At a candidate forum in May, all six of Levin's opponents decried the plan, and Evan Thies, former chief of staff to Yassky, said the process might even merit an investigation.
Levin alone said he agreed with the existing plan.
"I'd sum it up by saying it's a lot of politics," Levin said of the allegations against the plan.
For all of his gee-whiz charm and innocent candor, Levin is hardly naive. "I take that in stride. We are running a political race here so I don't necessarily take it too personally or think that it's unfair or something like that," he said.
Levin took some political heat early in the spring, when he failed to show up for the first three debates. Riding in his dented red Honda (which requires a pair of pliers to roll down the passenger window), Levin explained that one debate overlapped with his brother's wedding; one occurred just before it, as he was "trying to pack everything in"; and the third one, they forgot to invite him.
Levin has been to two debates since then, and so far, he seems unwilling to drop the gloves, or take the bait. "I have nothing bad to say about the other candidates," he told me. He has laughed off Vito jokes and insinuations, and his own answers have been more conciliatory than combative.
He even pulled his punches in talking about Mayor Michael Bloomberg, whose face smiled up at him from door hangers, and who several Butler Street residents were curious to hear his opinion on. Levin's most pointed criticism of Bloomberg was that the mayor's campaign spending was "incongruous" with the tough economic times.
Levin, like many candidates, resists talking about what happens if he loses.
"I might consider grad school," he said. "No matter what happens, I'll be invested in this community for the long haul. Since I came here, that's where my heart is."
But the more interesting question is what happens if "Vito's Guy" wins.
"On the policy stuff, we're very much on the same page most of the time," Levin said. "He's sought my counsel on a lot of stuff and I think he's always respected my opinion about stuff.
"As a City Council member, I think that relationship would continue, where he respects if I have a dissenting opinion from his," Levin said.
"I'll be my own guy," he continued. "I'm going to have to make calls on my own.  He's a mentor and on a lot of issues I'll probably seek his guidance or ask his opinion."
In the meantime, Levin keeps campaigning. In Boerum Hill, his last stop was in front of a small stoop gathering with some hipstery, reticent-seeming voters in their early 20s. One was from out of the district, but Levin gave him a button to pin on his stylish flannel anyway.
"If you wear the button, people will see it and say, 'That guy looks really cool, who's that Levin character?'" Levin told him.
He left the group with some parting instructions: "Spread the word, homies."