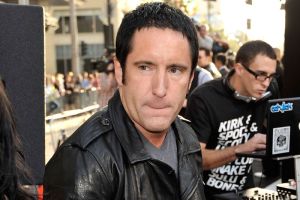 Trent Reznor has had it with social media, so he announced he's leaving it … on a messageboard. "I will be tuning out of the social networking sites," he wrote in a June 10 post, "because at the end of the day it's now doing more harm than good in the bigger picture and the experiment seems to have yielded a result. Idiots rule." (Hey, that's the name of a Jane's Addiction song!)
Earlier this week, Nine Inch Nails' Mr. Reznor was at the Webby Awards, explaining to The Observer how he had harnessed the power of Twitter to help raise funds for Eric De La Cruz, a 27-year-old from Arizona who is in need of a life-saving heart transplant. But, apparently, the anonymous spews "from picture-less creatively named profiles" and the Metal Sludge crew, described by Mr. Reznor as "unattractive plump females who publicly fantasize about having sex with guys in bands" got to him on Twitter. So he claims to be abandoning his account, just a few months after becoming active on the site. He had a message for those haters, too: "Cutter's tip for my friends there: remember to cut along the length of vein, not across. Bigger payoff."
His last tweet was a link to the message-board post, which he ended with: "I have business in the real world to attend to including wrapping up the live version of NIN, DOING some cool new shit and spending as much time as possible with the most amazing woman in the world." But we don't feel this is the last of Mr. Reznor on Twitter. He can't seem to keep himself from battling it out with his online enemies.
So don't unfollow him just yet. He just might announce that he's moving to his own online social community. As he wrote in the goodbye post:
I had thought a while ago about attempting to start a mainstream public forum that required real verification of its participants for purposes of context. The idea was to have a place where you can actually discuss whatever and have some idea of who you're conversing with. For example, if we were discussing drumming techniques and you can see that someone participating in the discussion is a drum instructor vs. a 13 year old kid Googling answers, you'd have the proper context in which to have a potentially valid discussion. If we were discussing EDLC's heart condition and a real cardiologist speaks up, I'd value his opinion over, say FredFuckFaceWhateverHisLastFuckingNameIs's "opinion". Know what I mean? Anyway, we're in a world where the mainstream social networks want any and all people to boost user numbers for the big selloff and are not concerned with the quality of experience.
Certainly, Twitter has come under fire for its many inactive accounts and harrassing users. On June 11, the service launched a new version of their "Verified Accounts" feature, which prevents "identity confusion" and helps celebrities, musicians, politicians and other public figures notify users that their account is The_Real deal (we see you, Shaq). So far the service is simply for big-name users, but it's a small step from Twitter to make sure their users stay in line (although, this was only after a major league baseball player slapped them with a lawsuit).
We can expect to hear more from Mr. Reznor, although he admits that these were just thoughts written while "bored on a long bus drive." "[T]here's no real moral to the story here, just writing."