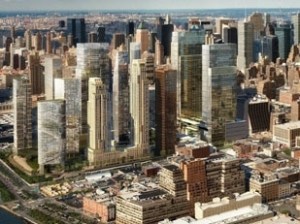 Manhattan's Community Board 4 held a forum Wednesday night about the Related Companies' plans for developing the West Side Rail Yards–a site adjacent to the new High Line Park, which opened to the public on Monday to rave reviews.
Some quick background: Related, which the M.T.A. selected to develop the site (but hasn't yet signed a contract), wants to create a mix of residential and commercial space, as well as parks, a school and a cultural center, on a platform built above the yards. Friends of the High Line, as the New York Post reported earlier this week, want to ensure that an unprotected, half-mile section of the old rail trestle is set aside as park space.
We sent Observer intern Alex Tafet to Wednesday's meeting, where he said a large number of people turned out in red "Save the High Line at the Rail Yards" t-shirts. Here are a few notes from his dispatch:
Hudson Yards Community Advisory Committee Chair Anna Levin said permanent and affordable housing is the community's priority, with other goals being to preserve the High Line, create parking and public facilities, and incorporate the arts into the plans.
Vishaan Chakrabarti, Related's executive vice president of design and planning, reiterated those goals, as well as the creation of a public school and promoting sustainability. The school, he said, would be a 120,000-square-foot, 750-seat facility for grades K-8.
Mr. Chakrabarti's presentation also stated: Office and residential space would comprise as much as 2.2 million square feet and 4.4 million square feet respectively; there would be fewer retail shops and tall buildings closer to the water; there would be two 800-space parking garages underneath the parks and buildings; and that the High Line would be integrated into the new design.
During the question-and-answer session that followed, one person asked how the new site might help fix Hell's Kitchen's "awful" infrastructure. Members of the West Side Neighborhood Alliance said there should be no building taller than 66 feet. Several speakers said the plan didn't include enough affordable housing.
The community board is weighing in at this point as half the 26-acre site is going through the city's seven-month rezoning process. The next step will be a recommendation by the community board, and ultimately a vote by the City Council on the plan.
ebrown@observer.com
jpompeo@observer.com