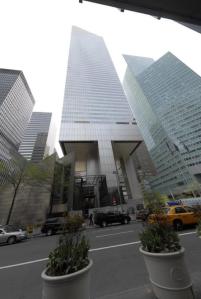 The bankruptcy of General Motors could have some unexpected repercussions for Mort Zuckerman's Boston Properties, the publicly traded real estate investment firm that owns 48.5 million square feet of office space, including the GM Building (the auto manufacturer's New York headquarters) across from the Plaza Hotel.
General Motors' lease for 101,000 square feet at the GM Building expires on March 31, 2010, according to a document Boston Properties filed Thursday with the SEC as part of a stock offering. Meanwhile, GM's lease for about 120,000 square feet at Boston Properties' imposing building once known as the Citigroup Center (and recently renamed, rather blandly, 601 Lexington Avenue), began on Monday, and expires on May 31, 2019.
Even so, GM has yet to even begin construction on the new space (presumably because they have neither the time nor the millions to do so), according to a source familiar with the building.

Now that GM is in bankruptcy, it has the right to "reject these leases at any time, but it must continue to pay its rent until it does so," reads the prospectus. "We cannot assure you whether and for how long General Motors Corporation will continue to occupy its space at the General Motors Building, or whether it will ever occupy the space at 601 Lexington Avenue."
"The contribution from these leases, on a cash basis, from July 1, 2009 through December 31, 2009, would be approximately $2.5 million at the General Motors Building (which amount represents our pro rata share based on our 60% ownership interest in the venture that owns the building) and approximately $6.6 million at 601 Lexington Avenue," reads the stock offering.
That may not seem like much money, but a building's viability is entirely dependent upon its rent-rolls, and hence, the viability of its tenants. Midtown's major tenants (its own Big Three) have long been financial services (now languishing), legal services (now languishing), and media (let's not even go there). And so midtown, and midtown landlords like Boston Properties, have suffered disproportionately in this downturn — with the recession's epicenter in New York's central business district.
Meanwhile, the proverbial shit looks primed to hit the fan in Downtown Manhattan any day now, what with Bank of America reaching a decision on Merrill Lynch's space at World Financial Center and AIG's collapse, among other fun developments.
Even so, Boston Properties is not entirely without recourse.
"If General Motors Corporation rejects a lease, then we may file a claim for damages, which would be subject to the limitations under the bankruptcy laws and the availability of funds to pay creditors."
drubinstein@observer.com