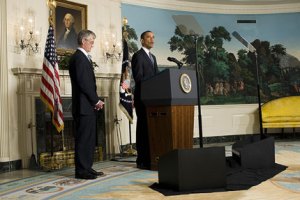 ALBANY—Here we go again.
The news from Washington is that Representative John McHugh, a Republican representing the North Country, will be tapped by Barack Obama to be secretary of the Army.
This means, of course, that—assuming McHugh is confirmed—there will be an off-cycle election for his seat.
McHugh is one of only three Republicans left representing New York in the House. (Long Island's Peter King and Chris Lee of the Buffalo area are the other two.) The ranking Republican on the Armed Services Committee (Fort Drum is the largest employer in the district), McHugh is a moderate Republican in a large, almost entirely rural area that spans most of the North Country.The district is solidly Republican—there are 183,259 registered Republicans, 122,310 Democrats and over 80,000 unaffiliated—but party advantage didn't stop Democrat Scott Murphy from taking the 20th Congressional District just recently (albeit by an extremely small margin).
In the 20th, which become open when Kirsten Gillibrand was elevated to the U.S. Senate, the race came down to the popularity of the new president and the ability of an unknown candidate to ride this year's Democratic surge. (Republicans, granted, shot themselves in the foot at almost every turn in this race.) If the Republicans were to lose the 23rd district, it would put more pressure on King and Lee during redistricting in 2012, and further demoralize the state Republican Party.
Almost immediately, I heard Assemblywoman Dede Scozzafava mentioned as a potential Republican candidate for McHugh. Scozzafava was recently named minority leader pro tempore in the State Assembly under Brian Kolb. Others candidates will no doubt emerge.
Joe Spector floated State Senator Darrel Aubertine as a prospective Democrat in the race, but he will face a tough choice: the party needs him in the State Senate to maintain a slim majority there.