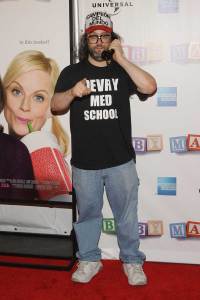 The literary agent Richard Abate has sold a book by the comedian Judah Friedlander, who plays Frank on 30 Rock, to It Books, the new pop culture imprint of HarperCollins. Mr. Friedlander will write the book in the voice of the World Champion, the outlandishly boastful character he has been playing as a stand-up comedian for the better part of a decade.
Mr. Friedlander's book is among the first Mr. Abate has sold since leaving Endeavor, the Hollywood talent agency for which he operated an East Coast literary department prior to the firm's recent merger with William Morris. Mr. Abate declined to comment for this story beyond confirming the fact of the deal.
It Books editor Kate Hamill, who first reached out to Mr. Friedlander's management team several months ago about a possible project, said the book will take the form of an illustrated, satirical how-to guide that will teach readers how to deal with "everyday dangerous situations," and would feature "a ton of pictures of [Mr. Friedlander] combating his many foes." According to Ms. Hamill, some situations to be dealt with in Mr. Friedlander's book include confrontations with Bigfoot, hostile tourists, dinosaurs who have come back from the past, and one-armed men.
Mr. Friedlander's film and television agent, Bernie Spektor of the Gersh Agency, compared his client's act to that of Andy Kaufman. "He takes on this persona, this alter ego, this character, and that's the voice of the book," the fast-talking Mr. Spektor said while driving through the desert to Las Vegas. "The world champ is a world champ of many kinds of activities, one of which is the self-defense karate/ninja element."
Scheduled for publication in the spring, this is the third book Mr. Abate has sold by an actor from 30 Rock—the others being Tracy Morgan's I Am the New Black, which is out this fall from Spiegel & Grau, and Tina Fey's collection of essays, which Little, Brown famously acquired for a sum in the neighborhood of $6 million.
"The Alec Baldwin book would be amazing, too, I'm sure," Mr. Spektor remarked.
So are we! Unfortunately for Mr. Abate, Mr. Baldwin already has a literary agent in one Karen Gantz, who told the Transom on Tuesday that "many publishers" have called her expressing interest in a book by Mr. Baldwin written from the perspective of his 30 Rock character, Jack Donaghy.
"I think the Jack Donaghy character in this kind of economy is a real important lesson for how to do business, how to interact with people, how to deal with the downturn in the economy," she said. "He's a boss that's very caring about his employees. I think it's very relevant today."