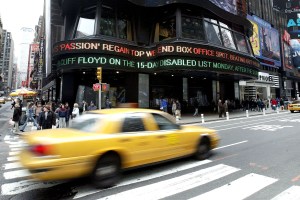 This morning, entering day five of the conservative teeth-gnashing directed at ABC News and its upcoming series of newscasts from inside the Obama White House, The Washington Times published an article reporting that ABC employees gave 80 times more money to Mr. Obama in 2008 than to his political rivals.

"According to an analysis of campaign donations by the Center for Responsive Politics, conducted at The Times' request, ABC employees in several divisions donated $124,421 to the Obama campaign, compared with $1,550 to the presidential campaign of Sen. John McCain," wrote Jennifer Harper.

Not surprisingly, the report further inflamed the outrage at ABC News among conservative bloggers.

"The ABC News network is now officially an advocate for the agenda of President Obama, which would be fine if they stopped calling themselves a news organization," wrote The Lonely Conservative. "Not only do they give up ad revenue and airtime to promote Obama's agenda, individual employees of the network ponied up their own cash to support the Obama campaign."

But wait—The Washington Times' article clearly stated that the donations came from several divisions at ABC. Did any of the money actually come from employees of ABC News?

This afternoon, the staffers at the Center for Responsive Politics sent The Observer the same report they had prepared on behalf of The Washington Times.

A brief look at the data makes one thing clear: The vast majority of the donations given to Obama from ABC employees came from individuals who have nothing to do with the news division and its political coverage.

Typical entries: Cleto Escobedo, the leader of Jimmy Kimmel's in-house band, Cleto and the Cletones, gave Mr. Obama $500.

Christina Applegate, lately of ABC's sitcom Samantha Who? donated $2,300.

Allan Heinberg, the co-executive producer of ABC's Grey's Anatomy, chipped in $1,000.

Seth Gabel, an actor on Dirty Sexy Money, coughed up $1,000.

Leila Gerstein, a producer on ABC's comedy-drama Eli Stone, gave $300.

Jon Kinnally, a writer for ABC's Ugly Betty, handed over $500.

And Michael Renfroe, hairdresser to one Barbara Walters, ponied up $1,750.

And on and on.

Among the hundreds of names of actors, entertainment writers, scenic carpenters, filmmakers, etc., on the list, we did find the names of two ABC News employees.

In October, Karen Burnes, a former 20/20 producer who has since left the company, contributed $385 to Mr. Obama's coffers.

And

Clarissa Ward, a foreign correspondent for ABC News, who was recently reassigned from Moscow to Beijing, donated $250 to Barack Obama on October 16, 2008. Roughly two weeks later, she gave Mr. Obama's campaign another $250.


"I am mortified by my mistake," said Ms. Ward from Beijing through an ABC News spokesperson. "I was new to ABC news. And I didn't pay close enough attention to their longstanding policy."

(Ms. Ward joined ABC News in October 2007 after several years reporting for Fox News).

The final tally: Of the $124,421 in donations, only $885 came from the news division.