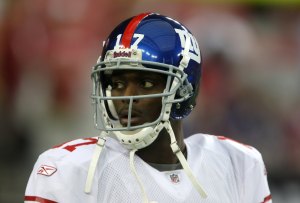 As I write this, NFL Commissioner Roger Goodell hasn't announced his decision on Plaxico Burress's suspension. Let's hope Goodell shows the kind of common sense that most football writers have not and chooses to be lenient. The penalty should be reasonable—does four games sound about right? It should, considering Burress was already docked the last four games of the 2008 season by the Giants.
It's time everyone remembered that the only person Plaxico shot was himself and that the results of his stupidity should count as part of his punishment. It's true that Burress has had a history of scrapes with his coach and sparring sessions with his spouse, but before shooting himself, his behavior was, at least by the standards of professional wideouts, no worse than, say, the average reality TV star.
On the field, his performance has been consistently above that of the average wideout. In nine NFL seasons he has scored 55 touchdowns, and his 15.5 yards-per-catch is just a fraction below that of Randy Moss. And he has something which Moss does not, a Super Bowl Ring. Burress is only 31—is it possible that no NFL team will give the man who scored the winning touchdown in the 2008 Super Bowl another chance?
Michael Vick will be released from federal custody on July 20. That is, he'll be free to leave his home in Virginia and try out for any NFL team that will have him. A great many people—for instance, Dan Shannon, assistant director for PETA (People for the Ethical Treatment of Animals)—think that he hasn't been punished enough. Shannon wants Vick put through a rigorous psychological examination to determine whether "This guy really thinks what he did is wrong."
As much as I dislike Vick, I dislike Dan Shannon even more: It's not enough when someone pays the prescribed penalty for wrongdoing, they must also be right in their hearts, as defined by people like Dan Shannon, before they are forgiven. Michael Vick, the Dan Shannons of the world feel, should not be allowed to work at his chosen profession until he convinces them that he's really, really sorry. I don't think Vick is really, really sorry for what he did or ever will be, or at least no statement he's made in public has convinced me that he is. And ugly as that thought is, I don't see why he shouldn't be allowed to go back to work in the NFL.
Let me be clear. I love dogs and I don't like Michael Vick, but I'm in full agreement with former New York Giant Harry Carson, who told The Sporting News, "Michael Vick was charged, he was tried, he was convicted, he paid the price. I don't see any reason why he should not be able to come back and play." That's spot-on analysis, and absolutely correct. Vick has paid his debt, and that should be the only consideration regarding his pursuit of a living.
Whether or not any NFL team should want to hire Vick based on his record as an NFL quarterback is another matter, one that goes curiously undiscussed in the football press. No one has ever argued that Vick isn't one of the most talented athletes of his time, but he's never been a very good professional quarterback. College, yes—he could simply outrun most of the linebackers he played against at Virginia Tech, and his receivers were fast enough to get downfield and make sure that he seldom had to throw into double coverage. In the NFL, you can't outrun linebackers, not for long anyway, and your receivers can't consistently outrun defensive backs. If you don't learn to read defenses, you're doomed, and Vick has never learned to read defenses.
Vick has always gotten a free pass when it came to analysis of his effectiveness on a football field. His won-lost record with the Atlanta Falcons was an uninspiring 38-28-1, and his career NFL passer rating is a less-than-mediocre 75.7, which would put him 27th among active NFL quarterbacks, if he should get hired and become active again.
He was a sloppy, careless quarterback who seldom audibled because he never caught on to adjustments that defenses were making at the line of scrimmage. His ball handling was terrible, and his fakes were so unconvincing they wouldn't have fooled a New York Times film critic. He never saw a crowd he didn't like throwing a football into.
I'll bet the Atlanta Falcons, who went 11-5 last year with the undistinguished Matt Ryan at quarterback—but whose QB rating of 85.7 is ten points higher than Vick's—would be less than thrilled to see Vick's punch buggy pulling up to their training camp.
A suggestion, though, for anyone who does decide to give Vick a tryout: Think about using him as a running back. For his career he has averaged just 6.7 yards per throw, well below the average for a winning NFL passer, but as a runner he has averaged a whopping 7.3 yards per try, and half of that is acceptable for a pro running back. He'd sure be hell on the run-pass option.
Here's another suggestion for any NFL team that looks at Vick: Think about biting the bullet and giving him a dangerous receiver to throw to. Plaxico Burress will be available.