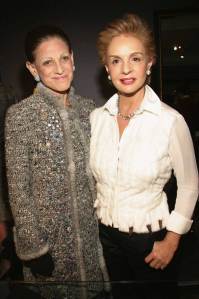 When literary agent Richard Curtis and his wife, Leslie, heard about journalist Michael Gross' unauthorized Metropolitan Museum exposé Rogues' Gallery, they wanted to check it out. Literally! So they searched the online catalog of the New York Public Library. But the book wasn't listed. Then they called the library and got "kind of a vague answer," Mr. Curtis said.
Then he remembered Rogues' Gallery had stirred up some controversy regarding Annette de la Renta, who is a trustee of both the Met and the NYPL.
"A lot of books don't get in the library," Mr. Curtis conceded. "It just may be that they're a little slow to get their act together. But given the social connections, you just have to wonder."
According to Peter Gethers, the book's editor, attorneys for Ms. de la Renta have sent more than one "strongly worded" letter to Random House, the publisher of Rogues' Gallery, about the final section, which focuses on her and her mother, Jane Engelhard. (Ms. de la Renta's attorney did not respond to requests for comment.)
Mr. Gethers said the library ordered copies of the book, and those orders would have been filled within two weeks of the book's publication, on May 5. "It makes no sense that the library isn't carrying the book," he said. "I'm sure they have not taken books for sexual content, but I've never heard of the New York Public Library not carrying a book for political or social content." (He also edited Kitty Kelley's book about the Bush dynasty; the NYPL has 33 copies of that.)
Library officials had no comment on the situation, so the Transom called the main help desk. The librarian on the other end seemed puzzled by his inability to find the book in the library system, though he said books often take between a week and four months to catalog. More popular books tend to get priority, he said, and after pulling up Mr. Gross' previous books, he seemed to think this one would fall in that class. He also said that books are often in the system even as they undergo cataloging, but he saw no sign of Rogues' Gallery.
In general, Ms. de la Renta appears to be a rather committed booster of the cataloging process. The library's 2008 annual report lists an Anne E. de la Renta Cataloging Endowment Fund as part of a list of endowments that were started with a donation of at least $100,000. The library has 18 circulating copies of Losing Mum and Pup by Christopher Buckley, which came out on the same day as Rogues' Gallery. It has more than 20 copies of Resilience by Elizabeth Edwards, which came out a week later.
But if you want to borrow a copy of Rogue's Gallery, you'll have to head to the outer boroughs: The Brooklyn Public Library has 18 copies in circulation; the Queens Library has 61. As for Mr. Curtis? "I paid retail for it, which, for a professional literary agent, is scandalous."