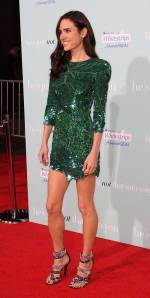 Christiane Celle, founder of the Clic Bookstore & Gallery in Soho, East Hampton and St. Barth, started visiting coveted Tribeca pediatrician and GQ subject Michel Cohen 14 years ago with her two boys, Julien and Adrien. Through the doctor, Ms. Celle got to know his wife, artist Jennie Weissglass, who will have a solo exhibit at the opening of Ms. Celle's second Soho location on Centre Street this week.
Ms. Weissglass' whimsical artwork, previously purchased by actress Susan Sarandon and designer Catherine Malandrino, have long been on display at her husband's office, currently on Warren Street.
"Definitely some people have bought work from me through that venue," Ms. Weissglass, 47, told the Transom.
Perhaps that is because Mr. Cohen's visitors are a loyal community of mommies and daddies (including actress Jennifer Connelly, photographer Annie Leibovitz and actor Michael Imperioli's wife, Victoria Chlebowski) devoted to Dr. Cohen's laissez faire–style medical practice.
"He isn't your conventional doctor," said Ms. Celle, 50, who was relieved to find a pediatrician from the South of France. (Ms. Celle, the former owner of the Calypso boutique chain, is from Cannes; Mr. Cohen is from Nice.) "He was like, 'Oh, no, the kid doesn't need any medicine and you can just go home.' Sometimes he just prescribes Tylenol!"
After becoming one of Mr. Cohen's patient-parents, Ms. Celle learned that many people she knew socially, like Ms. Malandrino and Tina Lipman, wife of Lipman advertising chairman David Lipman, were also loyal Cohenites. "I got to meet a lot of mothers in the neighborhood," she said.
The high-profile clientele is expected to come browse Ms. Weissglass' works, which will be on display till mid-July, this week. "She sent tons of invitations, but she's very modest. She never gave me any names," said Ms. Celle. "I know there are people already reserving some art, and the show hasn't even opened."