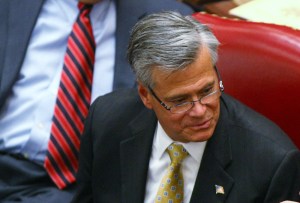 Democrats waited 40 years to win back the State Senate and now, just five months after finally securing control, it's been snatched away from them again. So it's only logical that they're furious.
But they should really take a breath, because—while they will have a clear and profound impact on the workings of Albany through 2010—the surprise defections of State Senators Pedro Espada and Hiram Monserrate to the Republican conference could end up, in the medium term, looking more like a blip than an earthquake.
Of course, that's not the attitude of Malcolm Smith, whose spokesman called the maneuver that will cost Smith his majority leader's perch "an illegal and unlawful attempt to gain control of the Senate and reverse the will of the people who voted for a Democratic majority." (The spokesman, Austin Shafran, also referred to the wayward Democratic members as "a thief and a thug.")
Expect to hear this line from outraged Democrats, in Albany and across the country, a lot in the coming days.
Don't expect them, though, to remind you how gleeful they were when Democrats in the Tennessee State Legislature engineered a nearly identical coup earlier this year (or when Willie Brown pulled off a similar deal in the California Senate 14 years ago). Their protests will be as futile as the Republicans' were in those two states; the G.O.P., barring some change of heart by Espada and Monserrate, will now have full, legal control over the New York State Senate.
But the new G.O.P. majority will be built on an absurdly flimsy foundation. Sure, Espada and Monserrate will provide the two crucial votes that will make Dean Skelos majority leader, a development that will severely complicate the budget process and, more broadly, the agenda of David Paterson and state Democrats. But by flipping to the G.O.P., Espada and Monserrate have almost certainly expedited their own exits from Albany—and the election of new, far more loyal Democrats to their seats.
The simple fact is that both men hail from staunchly Democratic districts: Espada from the 33rd in the Bronx and Monserrate from the 13th in Queens, where elections are decided by Democrats in primaries—not by the November electorate. Since billionaire Tom Golisano helped orchestrate their defections, Espada and Monserrate both are clearly banking on his financial support to help them overcome their districts' partisan demographics in November 2010.
It may not help much. With the 13th and the 33rd, we aren't talking about reasonably competitive districts where a well-funded and organized candidate of either party can win. We're talking about Democratic redoubts with powerful party machines. Whatever resources Golisano pours in next year will certainly be matched by Democrats, who will target the seats not just to win back their majority, but to deliver a message to any other would-be defectors.
Espada should know how this goes. He tried the same trick in 2002, when he represented the 32nd District in the Senate. Early that year, he announced that he'd be switching to the G.O.P. (although he never actually did) and later tried to win re-nomination on both party lines. Not surprisingly, the Democratic establishment recruited its own candidate, Ruben Diaz Sr., who bested Espada in the September '02 Democratic primary and who crushed him—64 to 35 percent—in November.
Espada had been pleading with fall voters to view him as an "independent Democrat" and to vote for him on the Independence line (headed that year by Golisano). Maybe that kind of strategy can work in a marquee U.S. Senate race in a politically competitive state (think Joe Lieberman in Connecticut), but not in an overwhelmingly Democratic state legislative district.
Nor is Espada the only partisan turncoat to learn this lesson. As Andrew Hawkins noted last fall, when Espada and Monserrate's loyalty was in question, there have been four Democratic state legislators in the last ten years to seek reelection after either switching parties or aligning themselves in Albany with the G.O.P. And all of them were defeated.
So, Espada and Monserrate are probably goners next year, meaning the Republicans will start the '10 campaign essentially assured of losing the two Senate votes on which their majority depends. They'd still have a shot at retaining control of the chamber, of course, but the odds would be the same as they were before Espada and Monserrate flipped; the party's fate would hinge on other, more competitive districts. 
That's assuming, of course, that Espada and—especially—Monserrate last until November. Both men are currently in legal trouble. Espada is being investigated by the attorney general's office for his role in a health care agency. Monserrate is facing a trial for assaulting his girlfriend last December and, if convicted, would be expelled from the Senate. Even if Monserrate beats the rap, the PR damage could be disastrous in any reelection bid—especially with Democrats targeting him so aggressively.
In that sense, a possible motive for Monserrate's defection emerges: Did he calculate that his Senate career is likely over no matter what and decide to stick it to Smith, with whom he has personal differences, on the way out?
What may be most noteworthy in all of this is that the one Democratic senator with a clear, policy-related gripe with Smith and the Democrats isn't involved at all. That would be Diaz Sr., who had originally joined with Monserrate and Espada (and Carl Kruger) last November and December in threatening to withhold support from Smith for the majority leader's post.
Diaz, a Pentecostal minister, is an avowed opponent of gay marriage and swore at the time that he'd never back any Democrat who'd push for it. Eventually, he gave in, even though Smith and Paterson apparently gave no ground on the issue. And now, of course, gay marriage has become one of Paterson's centerpiece issues, with Smith teaming up with him.
And yet Diaz was nowhere near Monday's coup. The reason, almost certainly, has to do with pragmatism: Diaz understands the importance of staying in the Democratic fold. His district, like Espada's and Monserrate's, is a party stronghold and his son, Ruben Jr., has political ambitions of his own. Best not to burn bridges, he seems to have realized.
Espada and Monserrate have decided differently. And as a result, they'll be treated like kings by the new Senate majority in Albany. For however long that lasts.