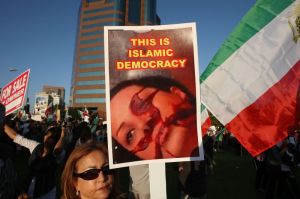 On the morning of Monday, June 22, television producers across the city grappled with a difficult question—how much of Neda's death do we show on TV?
Over the weekend, Neda Agha-Soltan, a 26-year-old Iranian woman, was shot and killed in the streets of Tehran, nearby clashes between pro-government militias and demonstrators. Her tragic final moments were captured on a cell phone video and soon disseminated rapidly across the Internet, transforming the young woman into an icon of the protests.
By Monday morning, the footage of Neda's death had become an important international story. But how much of the graphic video could news producers use on TV? In the end, such decisions varied from network to network.
At ABC News, producers for World News Tonight With Charles Gibson illustrated Neda's story using various photos from her Facebook page; a freeze frame from the YouTube video of her death; and some still photos from the street protests in Tehran. They did not show the video itself.
"There are plenty of disturbing images that we show—famine in Rwanda, genocide in Darfur, war in Iraq and Afghanistan—but there is a line," said Jon Banner, the executive producer of World News. "We don't show people on television at the moment of their death. That's just something we don't do."
Mr. Banner said that mixing in some of the video of Neda's death would have distracted viewers from getting to know her story. If, afterward, they wanted to see the footage, it was only a click away. "By telling our viewers that it's on YouTube, anybody who is watching our broadcast could go and watch the video if they're so inclined," said Mr. Banner. "But that should be their choice. We shouldn't force anybody to be watching that stuff, when clearly it is so disturbing."
Over at CNN, when producers first got hold of the footage over the weekend, they initially shielded viewers from Neda's bloody face. "We put a bubble over her face in the early stages, because it was so graphic," said Parisa Khosravi, senior vice president of international news gathering.
But as time passed, the story began taking on a life of its own—particularly on social networks, such as Facebook and Twitter, where the video of Neda's death was posted over and over again. Eventually, CNN's senior editor of Middle East affairs, Octavia Nasr, narrated a package for CNN about how the specific imagery of Neda's death had become a rallying cry itself.
"That's when we used it without the bubble," said Ms. Khosravi. "It was part of the story to show the video and say, 'This is what has caused this incredible reaction.'"
Typically, the unobscured images of the video on CNN were prefaced with a warning. "We must warn you, her report contains extremely graphic video," said Larry King when introducing the package on Monday night. "It is disturbing."
At CBS News, producers at The Evening News With Katie Couric decided to include some of the video footage in their package on Neda's death. During the more graphic parts of the video, however, they blurred out Neda's bloody face.
"These things are gut calls by the executive producer and his team," said Paul Friedman, senior vice president of CBS News. "They're always kind of conscious about how at that hour, you have people of various ages with various sensibilities watching. If it's not necessary to the story to show the most disturbing part of it, then why do it? In this case, they took out the parts where the blood was the most obvious.
"I think we did a good job of making the point that this image has become iconic, without being unnecessarily graphic," he added. "Decent human beings will make different decisions based on their guts."
fgillette@observer.com