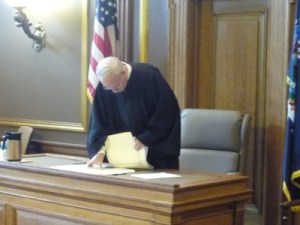 ALBANY—Judge Thomas McNamara says he'd rather not get involved in a leadership dispute embroiling the New York State Senate, but will decide officially whether to hear the case on Monday.
"There are three co-equal branches of government," he just said in Supreme Court after conferencing with attorneys for Republicans and Democrats over a suit filed Thursday by Democratic Leader Malcolm Smith. "The courts certainly do, on occasions that are appropriate, venture into other areas, but there's a reluctance to do that. It would be in everyone's best interest if the Senate, over the weekend, got together."
"There will be people who are not going to be happy, but you really have to do this amongst yourselves," he said.
This seems to affirm the crux of the Republican counterargument to the Democratic suit: that a judge has no standing to stick his nose in the procedural business of the chamber. John Ciampoli, an attorney representing State Senator Pedro Espada Jr., who is the ostensible president pro tempore of a Republican-led coalition government, filed a motion to dismiss the suit based on that logic.
McNamara signed an order that would allow both sides to debate the suit's validity on Monday. Democrats will spend the weekend crafting a counter-argument to the Republican motion to dismiss.
Democrats denied McNamara's comments boded poorly for the case.
"Absolutely not," Austin Shafran, a spokesman for Smith, said of McNamara's comments. "It doesn't undermine anything, because our basic point remains the same: the stealth resolution in the political coup that they conducted on the floor of the Senate chamber Monday was illegitimately done."
Ciampoli noted that the State Senate is scheduled to be in session at 3 p.m. on Monday. McNamara promised a decision would be rendered before then.
McNamara also made a point of, from the bench, defending the judiciary's role in this process.
"This matter has an importance to it that certainly has a theater to it and a drama to it, and an absurdity to it to be quite candid, but also it's very important to the people of the state, the parties involved, and everyone in this court room today," he said. "I think the courts have a responsibility, when called upon, to ensure that all parties have an opportunity to be heard."
UPDATE: Here's the Republican motion.