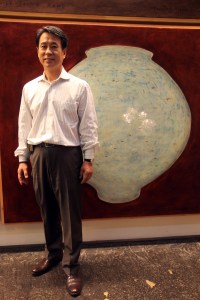 "Everybody said I was crazy," said Young Woo, 56, the developer in contract to buy AIG's two Lower Manhattan skyscrapers. "But I said no, New York has a lot of originality, and we have to create."
He had just presented an animated video about the SkyGarage. In the video, an elevator carries a car up to a personal garage adjacent to the driver's condo. Mr. Woo's architectural partners said that it would be impossible, according to Margarette Lee, his business partner at Youngwoo & Associates, the development firm housed on the fourth floor of 435 Hudson Street. But now the condo at 200 11th Avenue, which incorporates the SkyGarage, is nearing completion and will be the first of its kind in the U.S.
Douglas Elliman's Leonard Steinberg, the broker helping market those condos, said Mr. Woo bought "the only site in Manhattan that could accommodate this building": four continuous sites with existing curb cutouts.
But that's nothing. Mr. Woo has just taken his largest leap of faith yet. Earlier this month, he entered into a contract to purchase AIG's two downtown towers, 70 Pine Street and 72 Wall Street, for approximately $140 million—a mere $100 per square foot. If closed, it will nevertheless be downtown's biggest real estate deal of 2009 and a true price benchmark in a year sorely craving one.
Youngwoo & Associates has significantly remodeled almost all the buildings it has ever handled, according to Mr. Woo and Greg Carney, the firm's third principal. The AIG towers—early 20th-century testaments to Art Deco—promise to be no exception.
"We want to make some very interesting project out of it," Mr. Woo said during an hour-long interview at his offices on June 12. "How do you make this project successful and make it part of some continuation of what we do?"
Excellent question. Mr. Woo did not want to go into any details, referring The Observer to Mr. Carney for more questions. Mr. Carney declined to comment on any specifics about their plans or funding (it remains unclear how much the Korean-based bank, Kumho Investment, which partnered on the contract, will chip in).
Real estate experts said that remodeling the towers—whether for retail, residential, hotel or redesigned commercial space—is risky.
"The economic opportunity to convert anything to luxury condos has passed," said Jonathan Miller, CEO of Miller Samuel and author of popular housing market reports for Douglas Elliman. "New development in general is experiencing a very weak environment right now because of the recession, because of the credit contraction, and because developers haven't been able to adapt to the new market."
But colleagues said that if any developer can adapt to a new market, it's Young Woo.
"[Buying the AIG towers] is brilliant. It's not good or great—it's simply brilliant," Mr. Steinberg said. "He probably went to buy this building when everyone else was scared frozen. And he has the foresight, I think, to think ahead of the pack and do things differently and time his entry and purchase smartly."
During the interview, Mr. Woo spoke carefully. English is his third language; he didn't start learning it until he moved to the U.S. at age 19. ("I have to ask around when I email," he said, laughing. "I just want to make sure I'm writing correctly.")
He wore a white dress shirt with a pattern of blue circles resembling balloons; a black belt with his cell phone attached; and dark blue jeans. His gray-black hair was carefully gelled. Outside the conference room, a lamp from Central Park and a rusted oxygen machine from Argentina were standing on either side of the glass door, and an Argentinean cowbell was affixed to the door's handle. A large, white box with the Fruit RollUp logo stood in another corner of the company's office.
Folding his hands together on the conference room's table, Mr. Woo began to tell his story.