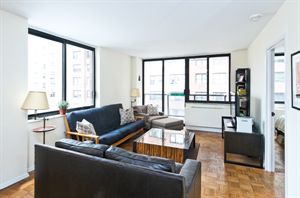 As New York's rich get less rich, do they leave bargains in their wake?
This Sunday, Your Open House explored the Upper East Side in search of one-bedroom bargains. All the condos visited were priced well under the average Manhattan price cited in Sunday's Times ($723,865), as well as the median ($818,000) on StreetEasy.com. But none, regrettably, were without liabilities.
The building at 215 East 81st Street is aggressively new (lots of chrome and concrete) on a block dotted with upscale consignment shops and picturesque fire escapes, and it hosted a number of prospective Upper East Siders this weekend.
Anna Voeller, an architect just returning to New York after living in the Middle East, said she was looking for a place she could rent out most of the time and use when she came to town—on the Upper East Side, maybe, although she was also considering Brooklyn. Equipped with a digital camera, Ms. Voeller swooped efficiently through Unit 5C.
"It's not as bad as I thought," she said.
This was the most chipper assessment heard among Sunday's visitors. Several condos were showing at 215 East 81st, and an intrepid corps of open house-goers wandered the building, asking one another where they'd last seen the broker, and whether all units were comparably weird.
"Crappy view," said Meleena Bowers, a lawyer, looking out the window from 3F.
"Bad use of space," said Wilson Tang, a banker at ING. 3F, the lower-floor mirror image of 5C, was approximately 591 square feet and asking $499,000; and the guiding principle of the condo's design seemed to be that odder is better.
Living in 3F, one imagined, would be like living in a fort: down narrow steps upon entering, around a corner to the kitchen, up more steps and around more corners to the bed. The building's duplex lofts each featured a tiny wedge of balcony (shared) too small to accommodate a chair or a grill. One person at a time could conceivably smoke on it, but it was unclear what other outdoor activities it might permit.
Ms. Bowers, for one, had been drawn by the prospect of outdoor space, and was disappointed. And this was not her only disappointment: the lone elevator was also slow, and the doorman had been swearing downstairs.
Mr. Tang was "not even looking-looking," he said; he just wanted to check out what was available. He currently lives in Midtown West. His most obvious problem with the building? At well over 6 feet, he was too tall. He looked Alice-in-Wonderlandish in the narrow hallways, and complained of low ceilings in the lobby.
Ms. Bowers and Mr. Tang each had parents in tow, but Father's Day seemed to mean that most young professionals spent the day suburban brunching rather than condo hunting.
This made for some lonely brokers elsewhere on the Upper East Side. An open house at 171 East 84th had had only two visitors. But the unit was, by way of contrast, a duplex loft done right. Or at least better.
Fifteen-foot windows faced west on one side of the apartment, and there were no Lilliputian hallways or mysterious steps to be seen. Giant mirrors along another wall gave the space the feeling of a dance studio, but maybe that made sense: the current owner is a Pilates instructor. Her parents had bought her the place when she was a student about seven years ago, said broker Michael Eisenbrown, a college friend of the owner's. Now she wanted to move out to Brooklyn.
Mr. Eisenbrown described the condo as Greenwich Village loft living transplanted to the Upper East Side, which might explain why it was having a hard time finding its niche. Older Upper East Side types, he said, would come in and visit but quickly balk at the stairs. Just over 1,000 square feet and asking $699,000, the apartment seemed like an eye-catching deal. But it needs work, Mr. Eisenbrown was quick to acknowledge—retiling in the bathroom, repairing some wall damage.
"Wait 'til I lower the price to 649 this week," he said.
Farther afield, out past York Avenue, broker Mary Latimer-Chung had a quiet afternoon at 510 East 80th Street: As her open house neared its close, she had seen six visitors. But considering the holiday, and the fact that she had had seven last week, she remained sanguine. "I think that's pretty good, truthfully," she said.
The asking price stood at $599,000. Most of the interest was from renters and first-time homebuyers, Ms. Latimer-Chung said, and from couples looking for a pied-à-terre. One of the two offers she had received as of Friday was from a Connecticut couple—he'd just started work in the city, but their kids were still in school and they didn't want to move full-time.
The 620-square-foot condo has a modest kitchen that opens into the living area and a bedroom with (beat this, duplex lofts!) a door. East End Avenue might be literally the ends of the earth, but 510 East 80th seemed like a pleasant oasis—quiet, and with a balcony that could accommodate not just multiple chairs but also probably some plants.
mfischer@observer.com