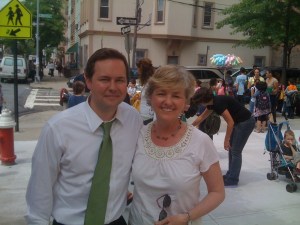 On a recent Friday night in the backyard of Pete's Candy Store, a neighborhood bar in Williamsburg, City Council candidate Evan Thies ate hamburgers and hot dogs with some supporters from the 33rd District's ubiquitous kickball league. After a few beers, the crowd of 20- and 30-somethings was hushed, and Thies—looking slightly out of place in black slacks, with a white shirt and an emerald tie—stepped forward to speak.
"I'm running against a machine," Thies told the audience.
President Obama had brought change to Washington, he said, but "Brooklyn is still a political backwater."
"There are powerful forces at work," Thies continued, "and even though we have a very good chance of winning, we're going to have to work harder than any other campaign to get it."
Thies, 29, has given much the same speech many times over the last few months—invoking Obama and decrying the "powerful forces"—in meeting places and candidate forums across the district. Thies does not mention these forces by name, but the 33rd District will be a test of the strength of the Brooklyn Democratic Party and its chair, Assemblyman Vito Lopez, whose former chief of staff, Stephen Levin, is running against Thies.
In a seven-person field crowded with self-proclaimed reformers who see easy capital in criticizing Lopez, Thies seems to be positioning himself as the most outspoken critic of the assemblyman. At a candidate forum in June about a local development project favored by Lopez, Thies said the process was "one of the worst shams" he had ever seen, that it had been "compromised to the point of corruption," and that it might even warrant an investigation.
Thies also has an unusually personal reason to rail against the "backroom deals" of Brooklyn politics. In a predictable political world, Thies would be running with the endorsement of the incumbent councilman in the district, David Yassky. Thies worked under Yassky for five years, and served as his chief of staff until 2007.
But Yassky, who is running for comptroller, has declined to endorse his former aide. This may or may not have to do with the facts that Lopez's chief of staff, Stephen Levin, is running against Thies, and that Lopez recently endorsed Yassky in the race for city comptroller.
In June, Thies collected the endorsement of the New Kings Democrats, a newish club that recently attempted to win seats on the county party committee.
Without the party's support and without the public blessing of his former boss, Thies is counting on insurgents like New Kings, and would-be reformers like those who joined him in the backyard of Pete's.
"I don't think it's an immovable force we're up against—I think people give it too much credit," Thies told me later. "I think what we have in this city are a lot of paper tigers who are posing as powerful dealmakers who basically get what they want by threatening force they don't have."
When Thies finished his brief speech to the Pete's patrons, his mother, Kathleen Thies, who had come down from New Hampshire to help him collect petition signatures, stood up from her table. "I'd just like to say that was my son and he means what he says. He was raised to do the right thing and that's really the way he feels."
Back in New Hampshire, in the Thies household, there is a picture of young Evan—in something like a blue blazer, red tie, khakis and dock shoes—standing with his grandmother, shaking the hand of then-governor Judd Gregg.
At the tender age of about 12, Thies took his meeting with the governor very seriously, and it would not be long before he succeeded in passing his first piece of legislation—a bill to raise awareness about children with chronic illnesses, for which he was both the driving force and a precocious poster child.
When he was 6, Evan had broken his foot, and an egg-like cyst had formed on the top of it. Neither of his parents—a doctor and a nurse, respectively—could figure out why. Eventually, an oncologist diagnosed Thies with fibromatosis, a chronic disease that produces a succession of benign tumors.
He underwent surgery after surgery, suffered through a number of chemotherapy treatments, and even took gout medication—but always, there were more tumors. When Thies missed school, which was often, he would spend time with his grandparents, receiving an education at the capitol in Concord.
Evan's grandmother, Mary Mongan, served as secretary of Health and Human Services under both Judd Gregg and his predecessor, John Sununu, and Kathleen Thies insisted her mother could have easily won a Congressional seat—had she ever resolved to upstage Evan's grandfather, a two-term mayor of Manchester.
Thies said his first memory of politics was when his grandmother advocated for AIDS prevention, in the days before the disease became a national issue. It was an unpopular position, one that engendered controversy in the fiercely libertarian state, and the state's Republican governors offered no quarter from the personal attacks and the editorials calling for her resignation.
At one point, Ms. Mongan was hospitalized with stress-related heart problems, but she persevered, the bill passed, and, according to Thies, transmission rates began to decrease.
So when Thies decided he wanted to fight back against chronic illness in the legislature, he recruited his grandmother.
"My mother basically pulled him aside and said, 'Come with me,' and she basically showed him how to work a room," said Evan's mother.
"My grandmother could convince people to back an extremely controversial program because they could look at her and she would say, 'This is important, you have to be with me on this,' and they would believe it because she did," Thies said.
"The thing that stuck with me was seeing how important the person who's delivering the message is," Thies said, "and the power of persuasion."
Thies still walks with a slight limp, in evidence as he maneuvered around the corner of Bedford Avenue and North Seventh Street in Williamsburg last month, trying to persuade hurried passersby that he should be their messenger.
"Nice shirt," said one fashionable passerby, who noticed Thies was looking identical to the photo on his pamphlet.
"It's the same exact shirt," Thies said. "I'm pretty boring, style-wise."
Thies sees a particular opportunity for his political style in Williamsburg, where he lives, and in Greenpoint, where he has his campaign office in a converted bar on the first floor of a Polish political club. Thies believes young voters in north Brooklyn, mobilized by Obama in November, could turn out in record numbers for a local election.
"Williamsburg sometimes gets a bad rap for being a disaffected neighborhood. It's not at all. It's one of the most active neighborhoods there is, and it could be a tremendous resource to get things done across the city," Thies said.
But Thies' efforts here might be complicated by his work for Yassky. In the fall, Yassky angered many in the district when he voted to support the extension of term limits after first saying he would not support the mayor's request. Yassky's vote led to speculation that he might abandon his comptroller run and re-enter the Council race. Thies pledged not to run against his former boss, leaving him to wait and see what Yassky would do.
In north Brooklyn, Thies is often forced to talk about one sore spot in particular: the 2005 Greenpoint-Williamsburg rezoning, which opened the waterfront to towering glass condos in exchange for the promise of affordable housing and more open space.
At a debate hosted by the New Kings Democrats, Thies addressed the rezoning, for which Yassky provided the crucial home-district support. Thies said he was "at the final table" when the rezoning was being decided, but called it "an utter failure" in several respects. "We were sold a bill of goods by the administration," he said, in reference to the affordable housing and park space that has yet to materialize.
Thies has tried to capitalize on the simmering resentment by proposing new regulations on city planning and new penalties for the city's unmet promises—tailoring the situation to his own message of reform.
But Thies' campaign Web site does not mention Yassky by name, saying instead that he served as an adviser to "the current Council Member," and at two recent debates—in Williamsburg and Greenpoint—Thies used similarly impersonal wording. Asked about the conspicuous absence of his former boss's name, Thies pointed out that it does appear in the pamphlet he is handing out.
"Look, I worked for him. I'm proud of the work we did. There's no way I'm not going to talk about that. Although we disagree on some things, I think he's overall been very good for the district," Thies said.
Thies insisted he has encountered very little criticism for his work with Yassky, and said that he is not waiting for his old boss's endorsement.
"I understand his position as a citywide candidate, it's difficult for him to get involved in a local race, especially when you're in the seat. But I'm not looking for that support so much as I am for his vote. And I think I have his vote," Thies said.
Thies often invokes Obama—and the president's message of change—when he speaks to young voters, and his top aide favors a polo shirt from the 2008 campaign, with Obama's name and the outline of Texas.
But he cut his political teeth under Senator Hillary Clinton. He was at Syracuse University when the newly elected senator was opening her upstate office, and he showed up to unpack boxes and set up cubicles, hanging around long enough that the office eventually hired him.
Thies' own style conjures Clinton's more than it does Obama's. He seems more likely to compel voters with his knowledge and experience than with an abundance of charisma. He speaks in measured tones, outlines his policy positions, and talks earnestly about earning people's votes.
He is sincere and studied, with a careful eye toward his own message, and its coverage. Thies was a journalism student at Syracuse, along with political science, and he left school in 2000 to cover the presidential primary for Scripps Howard.
"That whole time I was trying to decide which side of the notepad I wanted to be on, and that sort of confirmed for me that I wanted to be on the government side, if for no other reason than that I was just too impatient and wanted to be making decisions myself rather than influencing them," Thies said.
The two often overlap. After leaving Yassky's office in 2007, Thies worked for Berlin Rosen, a political media consultant.
And earlier, in 2004, he agreed to be the spokesman and media contact for a group of antiwar activists who were planning to protest George Bush at the Republican National Convention in New York.
The protesters devised a plan to rappel down the face of the Park Plaza Hotel and hang a huge banner that said simply "Bush" and "Truth" with two arrows pointing in opposite directions. Thies said he was not intimately involved in the plan, though he did visit one of the groups practice sessions at a Williamsburg warehouse, when they were practicing their rappelling.
Thies' job was to be on the ground, handing out press releases and speaking to the media on behalf of the group. The banner was hung successfully, and the stunt generated considerable press.
The city was not amused. A police officer injured himself when he stepped on a skylight on the roof, and the activists, including Thies, were arrested. Thies had taken the day off so as not to involve Yassky, but the councilman still was not happy.
"I never thought I'd be arrested," Thies said. "I was charged with something called third degree solicitation, which my lawyer didn't even know was a crime." A judge later dismissed the charge.
Thies said the arrest has already been used against him—evidence of a campaign that could get blistering, even among a group of self-proclaimed reformers.
Riding to the next petitioning stop, Ms. Thies mused about her son trying to become the kind of messenger her own mother had been.
"He knows I have mixed feelings about it, because I know what it really is," Ms. Thies said. "There's this mixture of motherly pride, and motherly 'Oh God, don't get hurt.'"