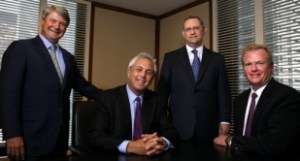 Sigh. What would we do without all of these market reports to brighten our day?
The latest is a dreary one indeed and comes by way of the Capital Markets Group at Cushman & Wakefield, headed by Scott Latham, Jon Caplan, Yoron Cohen and Richard Baxter. Much of the report dealt with the same issues addressed in Cushman's second-quarter breakfast last week. But there were some new stats (or maybe just ones we didn't notice the first time around).
Here's our favorite, and we use that word wryly: In 2008, the average price for one square foot of space in a top-notch Class A Manhattan office building was a bubblicious $941. This year … drum roll … $392!
Other goodies: Year-to-date, sales volume is down 95 percent from 2007.
Midtown has seen only two Class A office tower sales close this year, and we have Harry Macklowe (of oldjewstellingjokes.com fame) to thank: 1540 Broadway, sold to CBRE Investors, and Worldwide Plaza, sold to George Comfort & Sons. (The two deals, according to the Cushman report, represented 38 percent of the total Manhattan investment-sales volume for the first six months of 2009.)
The slowdown in the transactions is due in part to the utter collapse of the CMBS markets. This year, there has been no new CMBS issuance. Last year, $230 billion worth.
Meanwhile, the profile of those investing in New York properties has changed drastically. In 2008, foreign investors and private capital were the largest sources of investment, representing 39 and 33 percent, respectively. This year, foreign capital has apparently been erased from the scene. The largest sources of capital, thus far, have been private capital at 37 percent and pension funds at 33 percent.
Read the whole report here.
drubinstein@observer.com