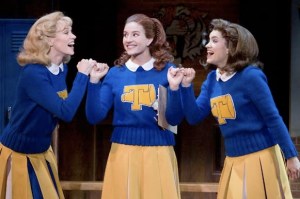 Here's what I learned at Jack Heifner and David Kirshenbaum's Vanities, which opened last night at the Second Stage Theatre: People change over time, and good friends can drift apart and cease to be friends.
Here's the other thing I learned: Your good friends will always be your good friends.
The messages are self-contradictory of course. But, then, this musical—based on Mr. Heifner's 1976 play of the same title, which ran Off Broadway for more than four years, with new songs by Mr. Kirshenbaum—is full of contradictions, platitudes, and very dated gender politics.
Vanities follows a decade or so in the lives of high-school best friends Kathy, Mary, and Joanne, smalltown Texas gals with accents thick as light, sweet crude. After a brief present-day prologue, we meet them in 1963. (Indeed, the dialogue reveals, we meet them on November 22, 1963—a detail that serves no purpose except, it seems, to get a surprised laugh of recognition from the audience. One does love a Kennedy-assassination joke.) They're cheerleaders, popular girls with steady boyfriends who are looking ahead to a football game that night, a football dance in a month, and bright futures of casseroles and Jell-O molds. But trouble lurks on that horizon: What if they don't all get into the same sorority?
Jump forward to senior year of college, and that crisis has been averted. It's 1968, and the three are—thank God—sharing the same sorority house in Dallas. There's another throwaway political timestamp: "Oh, let's not do anything about the war," says one of the girls, rejecting Bye Bye Birdie for the inter-sorority sing-off because Birdie is set to join the Army. "Let Lyndon Johnson do something about the war." (One does love a Lyndon Johnson joke.) Joanne is preparing to marry her high-school steady after graduation, achieving her domestic dream. Kathy has lost her boyfriend and is lost. But Mary—well, something is starting to change with Mary. She has discovered feminism, or at least discovered that she can discover feminism, and she's through with Texas. She's off to Europe after graduation, to find men, and herself.
Then it's 1974, and the three are reuniting for a tea party on the terrace of Kathy's Manhattan penthouse. Joanne, the only one who retains her drawl, has what she's always wanted: A corporate-lawyer husband, three kids, and a "huge old house" in Greenwich. (Even smalltown Texas girls apparently harbor Fairfield County fantasies. Who knew.) Mary has returned from Europe, opened a high-end erotic-art gallery, and lives a fabulous life of Bendel's binges and Virginia Slims. Kathy is still lost. (And, we're informed, irrelevantly, Nixon has just resigned.) This is the scene of epiphanies. Would you believe these once tight-as-a-string-of-pearls sorority sisters have drifted apart and lost touch for years? That Joanne gets a few glasses of champagne in her and starts to reveal—a dozen years post-Friedan—that life as a housewife can be suffocating? That Mary's working-gal life can feel a bit empty? That Kathy, once the intrepid organizer of pep rallies and spring formals, has had a nervous breakdown? Only one revelation—that Mary has had an abortion—draws a viewer's gasp, though it's much less for the fact of the procedure than for amazement that the script reaches to even that '70s-women's-libber cliché. But if this is all entirely unshocking to us, the characters are floored, and they leave the scene determined to never see one another again. "Why the hell should it feel so strange?" the three sing. "All relationships rearrange."
Indeed they do. But wait. Now we're in an epilogue, set back in that original small Texas town and placed, the Playbill says, "many years later." There's a coffin onstage, and one wonders which of the three girls has died, to make the others sad and regretful they never reconnected. But Vanities, of course, would never be such a downer as to kill a main character. (Nor, as goes without saying, would it have the courage of its convictions to admit the three really had grown apart.) No, it's Mary's mother in the coffin, Mary alongside the coffin, and Joanne arriving after those "many years" of silence to tell Mary how much she's missed her. Kathy, naturally, arrives next—no longer lost but now, instead, a successful novelist. (Need more proof of the show's '70s-era sensibility? It sees success and financial security in publishing.) Not-so-happy homemaker Joanne is now divorced and back in Texas. ("You opened my eyes, Mary, to something I didn't want to see," she says of that early-Ford administration terrace encounter—an offstage ephiphany!) Joanne is dealing old masters, not high-brow porn, and engaged to be married. "Let's promise to never fight again" may not actually appear in the script, but it's certainly implied, and the three exit upstage, arm-in-arm, into a sunset. B, as they say, FF.
This is not to say that the book's dreariness yields an entirely unpleasant evening. The jokes are unambitious but deliver at least a few chuckles. The soft-rock score rarely registers, but a handful of numbers—Joanne's "I Can't Imagine," a funky celebration of their never-ending friendship; Mary's "Fly Into the Future," the quasi-psychedelic rejection of a sedate suburban path—pack a punch. And all three actors—Lauren Kennedy as Mary, Sarah Stiles as Joanne, and Anneliese van der Pol as Kathy—give winning, energetic performances, especially Ms. Stiles, blessed with the best jokes and the best voice. Judith Ivey, a much-honored vet onstage, directs; she keeps the plot—such as it is—flowing, and she moves the actresses smoothly through the show's scene changes, as scenery and costumes transform around them. The sets and lights by Anna Louizos and Paul Miller are cleverly realized and frequently ingenious, easily shifting from a high-school girls' restroom to a sorority bedroom to—in an especially lovely transition—a grand terrace atop Manhattan. The costumes, too, are impressively constructed, allowing the actresses to pull on entire sixties-college-girl or eighties-businesswoman ensembles in a quick motion onstage, accompanied by a quick zip.
But the good stagecraft can't overcome the weak book. One can imagine that in 1976, these insights on women's roles might have been interesting. (Though still less interesting than in a typical episode of Mary Tyler Moore.) In 2009, it all lacks—if you'll permit a Barack Obama joke—the fierce urgency of now.