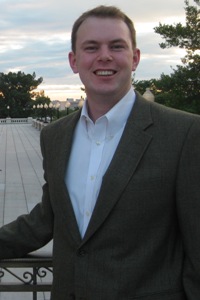 ALBANY—Joshua Lynch is 26, but there is nothing cutesy about his bid for John McHugh's House seat.
"My reception has been pretty good," said Lynch, the youngest of nine people currently seeking the Republican nomination to succeed McHugh, who has been recruited to serve in the Obama administration. "I think it's a center-right district, and I think it's ripe for a younger candidate with a lot of energy who can articulately talk about issues."
But Lynch is not simply some precocious hometown boy (he graduated from Madrid-Waddington High School in 2001 and St. Lawrence University in 2005). He has extensive ties and experience in Washington.
Lynch currently works as a legislative assistant to Senator Sam Brownback, a conservative Kansas Republican. Last year, he worked on the McCain campaign as national director of Catholic outreach, supervising a staff of eight and building contacts around the country.
Another would-be Republican candidate, Matt Doheny, is a businessman who has put $500,000 in a campaign account. Republican sources have told me Lynch's background would give him a unique donor base from which to raise money. Lynch says he hasn't tapped it yet.
There is a set process for potential Republican candidates in the district, and Lynch is wending his way through it. He attended a meeting of local committee people and county chairs Tuesday night in Gouverneur.
Lynch is conservative on the litmus-test issues (he's against a "redefinition of marriage," is "pro-life, whole life") and refused to take a position on "don't ask, don't tell." His central message, though, is more basically local: promote economic development.
"I'm trying to get out there with issues that affect people on a day-to-day basis," he said. "The way I see it is, families have been split apart. We have good universities here, but people can't find good-paying jobs here."