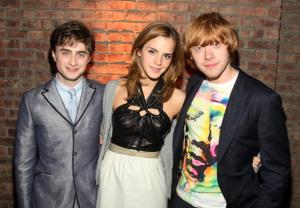 Costumed fans had been shrieking for a full 13 hours before the stars of Harry Potter and the Half-Blood Prince actually walked the red carpet at the North American premiere at the Ziegfield Theater on the evening of Thursday, July 9. "We go to a lot of wizard rock concerts," boasted lightning-bolt-tattooed Irvin Khaytman, speaking on behalf of the largest Harry Potter group in New York City, which he discovered on meetup.com.
Around 6 P.M, the cast began arriving. Before the Harry/Ron/Hermione Big Three made their way to reporters, spiky-haired Lance Bass, Kelsey Grammer, Marcia Gay Harden, Ashanti and Chevy Chase waved across the street to fans who were most definitively not there for them. "You're not allowed to get bored of Harry Potter," said Mark Indelicato of Ugly Betty, one of the few celebrities willing to give interviews. "It's, like, against the law."
There had been much pre-premiere hubbub about the newest element of the series: snogging! The underaged stars dressed to remind us that their well-publicized puberties have finally ended: Emma Watson, a.k.a. Hermione, wore a two-tone backless leather Proenza Schouler getup; Bonnie Wright, who plays Harry's newest love interest, Ginny Weasley, teetered in strappy red velvet heels, also worn by a young woman behind her on the red carpet. "Tut tut," Ms. Wright joked. "No good!"
Tom Felton, who plays evil Draco Malfoy, was "thrilled" that he did not have a kissing scene of his own, unlike his co-stars. "I heard it was a bit awkward among old friends," he said, tugging at his un-tied bowtie, and attending to his extraordinarily leggy girlfriend, Jade Olivia, whom he described as "the jewel on my arm."
"We're Harry Potter, man, its all above the waist, we're very chaste," star Daniel Radcliffe, clad in a shiny blue-silver suit, assured the Transom, referring to the film's racy bits. Rupert Grint, who had just recovered from a bout of swine flu, remarked that his parents "didn't really freak out. It was just like a normal flu!" Ms. Watson, last into the theater, is attending college in the States this fall, though she has not yet revealed which (Brown or Columbia, it is thought). Is she nervous about co-ed bathrooms? "Oh God, I didn't realize …that's news to me," she said: "I look forward to that part of the experience."
After the film, guests were transported to a party at the Museum of Natural History's Powerhouse via red double decker buses. Once deposited, the crowd—equal parts skinny-jean-donning 12-year-olds, haggard publicists and actual adults who looked slightly embarrassed about it all—sloshed through billowing dry ice into the massive space.
Children were greeted by a lavish dessert bar, as well as a station holding the Harry Potter video game and a photo booth with wizard robes where they could pose in front of a Hogwarts backdrop, which inebriated adults seemed to enjoy as well. Bartenders wore witch hats.
Outdoors, between trees affixed with crossed broomsticks, the cast lounged on white couches and admired the Planetarium's massive orb, onto which Quidditch scenes from the movie were projected.
A man wove his way through the crowd, offering card tricks to innocent bystanders. "That's weird," exclaimed one aloof-looking handsome guest after seeing one. "That's weird."